The TAG team (not to be confused with our Breeder Tag team) are a group of 11 Technical and Genetic specialists who offer support to sales and service colleagues, maximising value for our customers. The team are responsible for training our RMS technicians as well as offering genetic and fertility support to our customers. Despite numerous challenges faced by the pandemic the team have thrived and are always sporting plenty of enthusiasm.
Both the genetic and technical services teams work directly with customers and have taken the switch to the virtual world in their stride. Thankfully, very little disruption was seen, and it was soon business as normal as 'virtual consultancy' began. This new way has received many compliments from customers, a positive outcome from uncertain times!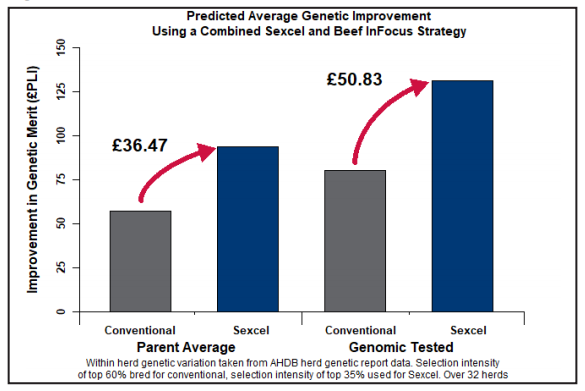 Customers are increasingly focused on the value a genetic improvement plan will bring to their business. Genetic Services created a tool to demonstrate the value our customers would see by switching to a Sexcel and Beef InFocus strategy. The tool uses customers own data allowing us to demonstrate their own picture to support discussions on genetic solutions and return on investment.
Technical services are also responsible for supporting new and existing colleagues in the RMS service team. New starters normally attend a 2 week 'crash course' in A.I. training which involves both classroom-based theory as well as practical A.I. training on farm. The technicians then shadow our RMS technicians before beginning 4 weeks of RMS training transforming them into 'repro-rockstars'. The pandemic brought challenges to this training programme and the TAG team had quickly come up with a plan B to ensure the RMS service could continue to run at full capacity with technicians still being trained to the usual high standards! Technical Services and RMS trainers put their heads together (not quite literally… 2 meters and all that!) to adapt the training protocols with a focus on colleague and customer health. Training became much more localized, with the theory-based work moving onto teams. The response form the Service team was fantastic, with a real sense of support for customers and colleagues during extraordinary times.
2020 saw the TAG team grow with Joe Bennett joining in January as a Technical Support Training Specialist. Joe spends his time delivering training and carrying out quality assurance with new and existing service staff. He also works with strategic accounts to deliver training to their staff, supporting the genetic and sales teams. Irfan Ali also joined the team in April as a Genetic Services Data Specialist and has helped develop data analysis tools to help our customers continue to improve. Two existing members of the team were also in the spotlight as Jon Mouncey and Chris Orrett were announced joint winners of the 'Genus ABS EMEA Customer Centric Value Award'.
The team take great pride in developing solutions for customers to ensure our business continues to evolve. 2020 has seen significant resource and time investment in developing solutions targeted at our customers greatest needs. So keep your eyes peeled, in 2021 we have some great things coming! We've got some technology and digital-based solutions in development and the feedback from our pilot customer suggests they are extremely excited! Watch this space…
A big thank you to our customers, colleagues and communities, your continued support and desire to grow inspires us daily. Keep safe and have an enjoyable festive period.