On the Twelfth day of Christmas Genus gave to me… safe and talented employees!
At Genus, one of our objectives is to be a talented people magnet; this year has been no different for our Human Resources (HR) department with recruitment, retention and development of our employees continuing, albeit in different ways!
For our Health and Safety (H&S) department in EMEA, this year has been unlike any other they have had to face. The global pandemic has created a difficult yet dynamic situation, so our H&S department (alongside ABS leadership), has needed to continually adapt the steps that are in place to keep our employees and customers safe. The path has not always been straight forward, with twists and turns along the way, but a pathway being laid by a huge team effort
Human Resources
Job security during such a challenging time can be a worry for employees. Luckily, as Genus is part of the 'essential' work force, we have been able to remain an attractive option for drawing in new talent. New starters have joined throughout 2020, with reassurances made via video that their new posts would still be going ahead! Technology has also been a key resource in developing and retaining our current employees. Our innovative Genus University has been launched and is accessible on any device, with a growing list of available content. Our teams have enjoyed virtual meetings, webinars and events- such as coffee meetings – all with a view to keeping everyone connected. Our leadership training programme was also launched and delivered remotely with the use of Franklin and Convey content. We have welcomed two women to our EMEA Leadership Team and a new Service Director, who is new to the Agricultural Industry, so increasing diversity in our Leadership has been another success for 2020. Promoting work-life balance has been even more important in the turbulent year of 2020; at Genus we have aimed to support parents working from home and engage the children they are still caring for. The benefit to an employee's mental health of meeting up in person cannot be undervalued, as was seen when our new graduates finally met up in person on a trip to our Momentum unit in Warwickshire, of course all appropriate social distancing was followed!
Health and Safety
Covid-19
For a Health and Safety department, a global pandemic is a rare and relatively unpredictable phenomenon; a tricky situation which you are unlikely to be prepared for. 2020 has seen a pandemic which most of us have never experienced before in our lifetime, and which led to country-wide restrictions we would never have expected to face! Genus as a business has needed to adapt to the situation as it occurred across regions, and our H&S department has been a key player in keeping us operating as safely as possible. As such a diverse business, a great variety of areas need to be kept safe; office spaces, stores, laboratories and on farm. All of these needed Covid assessment and contingency plans, which were put in place to ensure everyone was working safely. In our main office in Stapeley, we are proud to say we have no transmission between employees! One bubble was affected in our Intelligen laboratory, but due to careful contingency planning and hard work of our team, other laboratory bubbles were able to ensure output was not affected. Most members of staff have been working at home since March, and this too brings its own health and safety issues, as a safe and comfortable working environment is needed, this was not available to everyone at home. So, our staff numbers in the office were doubled to fourteen, with contingencies put in place to ensure it was Covid compliant, and this allowed them to work safely in the office environment. Methods have needed adapting throughout the pandemic, and our H&S team have recommended and supported leaders in creating protocols, and making sure these have been adhered to, to ensure the health and wellbeing of members of staff through the difficult year of 2020.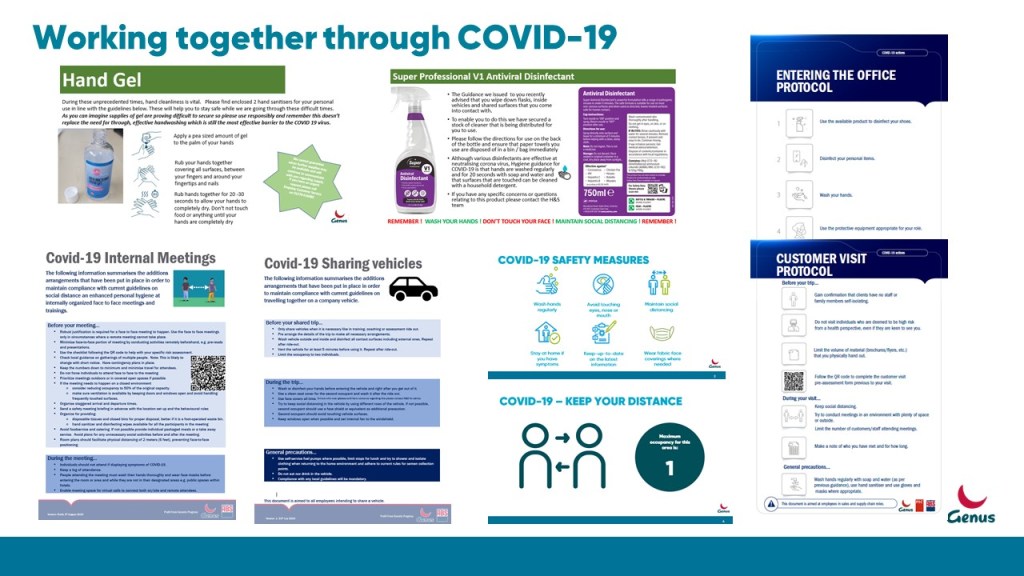 Other successes
In a year that has been dominated by Covid-19, our H&S department has also made huge efforts to support service in the UK and Italy, helping managers to ensure safety requirements are met. The use of lone worker devices has been supported and made successful, with also better observation and more actions for any incidents within service reported. Since January 2020 in the UK the new road safety devices has seen the H&S department supporting managers with data analysis of driving data and helping to ensure more action is taken to improve the safety of our drivers.