On the 5th day of Christmas Genus ABS brought to me: 5 Operations Obstacles
Carole Eyre leads the operations team of 38 employees who have all shown a tenacious 'can do' approach to overcome countless hair-raising hurdles brought by the COVID-19 pandemic. Throughout the pandemic, it was crucial to keep the semen distribution hub at Towcester operating and luckily (with the team classified as key workers) and some thorough disinfectant protocols put in place the wheels kept turning. As the 'panic buying' of pasta and toilet rolls made news headlines, our customers were more worried about buying more semen and filling up their flasks! Our team of 8 semen packers worked superbly to continue business as normal and Carol began to train a 'reserve' team virtually so that we could continue to pack semen if there was an outbreak at Towcester.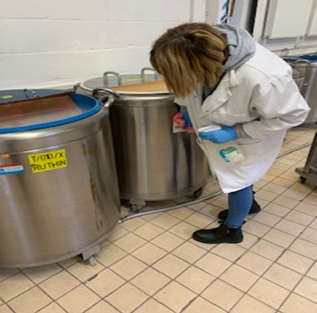 As the pandemic hit GB in March the disruptions began! Firstly, operations faced issues with the shipment of semen from the distribution warehouse at Towcester to our local stores in the South & South West as DHL became swamped with deliveries. For many, long commutes came to a halt and the nation prepared to work from home. Although desks to replace the makeshift home setup (an ironing board was a favourite of mine) and DIY equipment for those house projects were keeping DHL busy, it wasn't a valid excuse to our customers who were expecting their latest semen delivery, particularly with the spring blocks looming. The decision was made to take delivery in house and Mark Bancroft put on his super-hero cape and did a great job at collecting the deliveries from the warehouse each week and connecting them with colleagues in the South. Further challenges followed with distribution of exports as worldwide travel slowed up, meaning there were less planes in the sky for our semen shipments to hitch a ride on. But Carole and her team were not to be overcome, some of our shipments took a detour, flying via Amsterdam or Germany but making it to their destination none the less!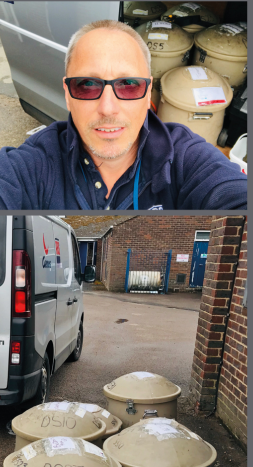 The fourth obstacle involved sourcing consumables for our sales and service team. COVID protection gear such as masks, hand gels and disinfectant gels added to the operations workload, as well as difficulties stocking the usual consumables. Nitrile gloves were the biggest headache as suddenly the NHS requirements rocketed meaning gloves were sparse. To add to this, our EMEA teammates ABS Italia and Bovec also had this problem meaning we were also shipping consumables to these countries to see them through. Stocks got pretty touch and go at one point – to the point that Carole and her team were nipping to the local stores/farm shops to purchase a couple of boxes here and there. But they were proud to get through the year without running out.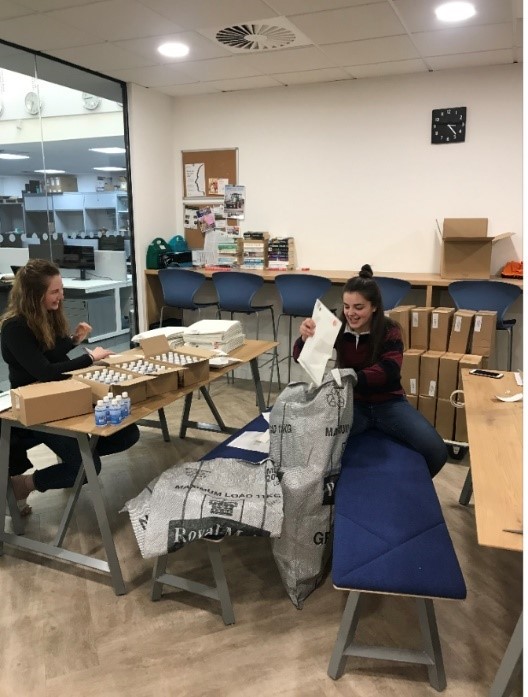 Carole also manages our GB customer services team who you will normally find in our Stapeley office. With the office closing, work swiftly began to set up a temporary telephone system to allow the customer services team to work from home. Carole soon found another job for I.T. as it was announced that the annual stocktake at Towcester carried out by external auditors would happen virtually. This was again, rather challenging for the team. If you have ever tried to read the batch numbers on a straw of semen you would agree you are normally squinting as the numbers are so small. Now try and do this through a virtual platform such as teams, in a warehouse that has never required WiFi. The I.T. Department came to the rescue again and swiftly upgraded the warehouse with WiFi and geared the team up with a mobile and laptop. But this still didn't fix the problem of the very tiny writing on the straws. A magnifying glass to the rescue! Yes, picture it, a mobile phone, streaming a live semen count/batch check through a magnifying glass. I don't think the team will forget it anytime soon, none the less their tenacity to do their job and not be defeated shone through and was commended by the auditors.
Whilst all these obstacles kept the team busy, spirits remained high and fun was still to be had! A 'guess the baby' competition was the talk of the WhatsApp group for a while: everyone had to supply a photo of themselves as a toddler creating a guessing game competition to keep everyone in good spirits. The team also put their creativity to test to come up with a name for the infamous NHS bear, recently crocheted by Serena Lombard, General Manager of South Africa. Martin Beeson came up with the winning suggestion of naming the bear after the inspirational 'Captain Tom'.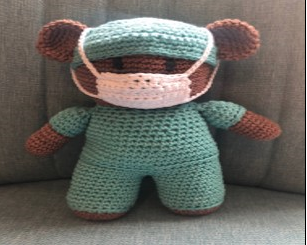 Written by Laura Tucker, Graduate Management Trainee