We have had an outstanding April proof evaluation, with 12 of the top 25 genomic £PLI sires being bred to our genetics, as well as all top five homozygous polled sires.
Focused on sustainability, we have made strenuous efforts to ensure our genetic portfolio has the outstanding capability to nourish the world, in the most efficient and environmentally-friendly way possible.
This can be evidenced by the data results of traits including, maintenance, Envirocow and Feed Advantage, as well as our efforts towards making efficient and strong polled animals (a cow which is born naturally, without horns as a result of its DNA.)
EMEA Dairy Brand Manager for Genus ABS, Hannah Goodwin, said: "Every April the base average of every animal changes due to the genetic progress of the national herd, and for this reason, the average increases.
"With that said, we have shown that we have the most diverse variety of sexed bulls available in the market, allowing us to identify sires to allow us to create the right genetic plan to meet our customer's goals"
Stars of the line-up
DeNovo 18757 HOMELAND, son of Pine-Tree GARDNER, is a great new addition to the Sexcel® line-up.
This sire has a £PLI of £841 and a production value of +844kgs. Whilst producing high quantities of milk, this sire will also maximise the positive components of fat (0.08%) and protein (0.09%.)
Available in Sexcel®, Genus ABS sexed genetics, this sire offers great fertility with a score of +9.2, plus an additional +143 days of lifespan.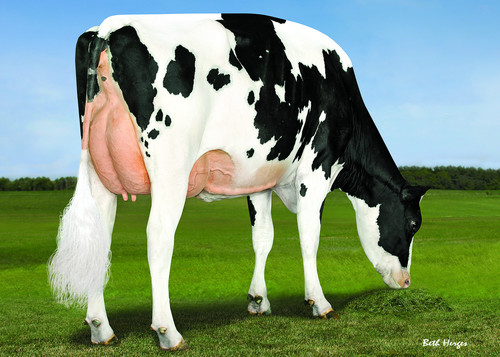 DeNovo 2808 ANTON, son of Denovo 16219 ALADDIN, transmits a package of High PLI of £837, milk +597kgs and components of +0.19% fat, and 0.10% protein.
ANTON excels for management traits with daughter fertility of +11.7 and lifespan of +180 days. He also offers high scores of +2.0 for calf survival and +1.9 lameness advantage.
The number 1 homozygous polled sire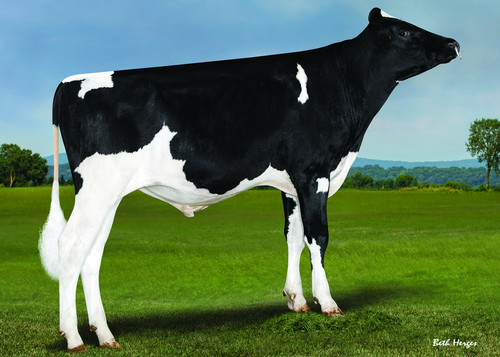 DENOVO 9443 MERIDIAN-PP, another Genus ABS 'icon sire', MERIDIAN-PP is the number one homozygous polled sire available on the market with a £PLI value of £819.
Son of Mendel-P, MERIDIAN-PP offers phenomenal components of +0.45% fat and +0.19% protein and his offspring will all be polled (hornless), which is both sustainable and money saving.
The top sexed homozygous polled sire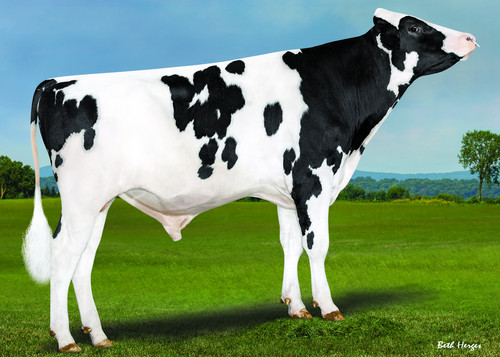 DeNovo 18452 YORK-PP is the highest £PLI homozygous sire with sexed semen available on the market with a £PLI of £772.
YORK-PP offers strong components with +0.34% fat and +0.11% protein along with impressive management traits. This sire has a positive feed advantage score of +176, a daughter fertility of +8.9, and a healthy cow score of +233.
The daughters of this strong sire will be of low stature and suitable for commercial systems.
The red and white star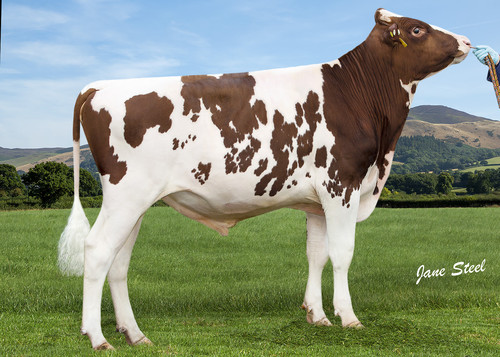 Red and white sire, RUW TRICKY-RED, is one of our 'Icon Sires' and has a £PLI of £670.
RUW TRICKY-RED has an impressive milk score of +813kgs, plus components including +27.2kg fat, +28.4kgs protein and a lifespan score of +156 days.
This sire is perfect for breeding with all RUBELS RED daughters. Also available in Sexcel®, RUW TRICKY-RED has a great mix of index and production.
Striving for sustainability
We are making continuous efforts to both nourish the world and make the food-chain more sustainable.
To do this, we have invested in the genetics of our polled animals, which offer a great genetic portfolio and prevent the need to remove horns, which saves the average farmer thousands of pounds every year.
Our sexed genetics, Sexcel®, is the number 1 sexed fertility product available on the market, with a 95% relative conception rate, which is evidenced by Genus ABS' Real World Data®.
60% of Real World Data® contains insemination data from other genetics companies, to ensure accuracy in results.
Sexcel® was designed to give farmers peace of mind. By using this sexed semen, you can be confident that your cows will get pregnant, and will have strong, efficient and female offspring.
By using Sexcel®, every animal in your herd will have a purpose, in turn reducing your carbon footprint.
Invest in Genus ABS genetics
If you're interested in improving your herd's genetics, visit the Genus ABS website today or speak to one of our experts: 01270 616681
North Wales / Cheshire / Staffordshire: Aaron Bousfield – tel:07967 783662 / mailto:[email protected]
Derbyshire / Shropshire / Leicestershire / Herefordshire / Lincolnshire: Richard Bostock – tel:07970503329 / mailto:[email protected]
Yorkshire / Lancashire: Colin Lucas – tel:07971 118993 / mailto:[email protected]
Gloucestershire / Oxfordshire / Buckinghamshire / Wiltshire: Andy King – tel:07971 119044 / mailto:[email protected]
South Wales: Ceidrych Davies – tel:07971 118614 / mailto:[email protected]
Devon, Cornwall & Somerset: Simon Hancock – tel:07971118911 / [email protected]
Scotland: David Guthrie – tel:07976 334 694 / [email protected]