Dec 4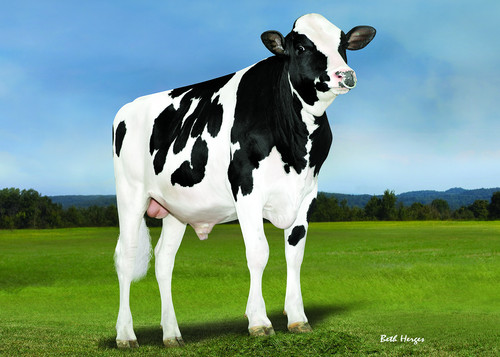 Today saw the December sire summaries where evaluations are published for all bulls. Genus ABS are delighted to boast seven of the top 10 PLI sires according to the AHDB list published today. It is fantastic to see the top spaces occupied by DeNovo 3303 CITIZEN, DeNovo 15826 KNIGHT and Bomaz EPISODE. These are all 2nd generation DeNovo sires; sons of Crosby, Kenobi and Entity respectively.
Taking the top spot is the Icon sire DeNovo 3303 CITIZEN who comes in with a £817 PLI, he is a complete sire who brings together a balanced health and fitness offering, superior production and functional Type. Hannah Goodwin, Dairy Brand Manager for Genus ABS comments, "This interesting Crosby son will be extremely attractive to farmers with robotic milking systems rear teats are positioned suitably at -0.57 and he will also add teat length. Citizen has a rare combination of extreme fertility at +11.8 and great production at +885kgs with positive components. He will breed small, deep bodied daughters, with improved body condition."
Also joining the Genomic line up for Genus ABS is DeNovo 16457 HALSTEAD, the highest PLI son in the world of the legendary Pine-tree Heroic. He comes in at £756 PLI, OVER 850kgs of Milk and 0.12% Fat. Adding to his appeal is his Fertility score of well over 5 points, adding almost 150 days to lifespan and crowned with +2.00 UK Type Merit. Hannah states, "HALSTEAD's introduction to the Genus ABS line-up marks the arrival of the next generation of DeNovo sires. His sire HEROIC has been used intensively within the DeNovo programme and we are pleased to offer the very best from his crop of sons. In addition to the introduction of Halstead to the UK market, Genus ABS are pleased to welcome Pine-Tree Heroic to UK customers too. Demand for this former number 1 $NM and gTPI sire is expected to be high so be sure to register your interest in the bull today."
Proven sire Seagull-Bay APPLEJAX continues to improve upon his already legendary status. He rises £44 PLI points in the December sire summary and continues to offer everything the commercial dairy farmer needs while continuing to add more UK daughters to his already 97% reliable proof. "Customers are not only attracted to his type and functionality, but also the increased production offering +768kgs of Milk and fantastic overall daughter fertility at +18, which is outstanding for any bull, let alone a bull of APPLEJAX's age.
Genus ABS welcome former Icon Sire and Genomic superstar Bomaz SKYWALKER to the Proven line-up too. "Skywalker already has thousands of daughters in the UK with some of the eldest about to freshen into their home herds. Reports from the USA have the daughters of Skywalker slightly shorter than average but with plenty of width and capacity throughout. They are exceptionally milky and exhibit that dairy character, two traits that are illustrated in this proof today. SKYWALKER joins Wilder HIRO who's first daughters have impressed classifiers and De-Su 13530 SEVILLE a Supershot son, who comes in with over 800Kgs of milk, almost 10 points of daughter fertility and great mammary promise who is ideal for robot-milking systems," concludes Hannah.
Reaffirming our position in the marketplace, Genus ABS are pleased to now offer almost 60 different sires over £700 PLI. For more information please contact your local Genus ABS Representative.