Sexcel®, our sexed genetics product, was released in 2017 following years of research, innovation and development, and is the most fertile sexed genetics product in the industry with a relative conception rate of 90% when compared to the performance of conventional semen.
Our data on Sexcel® is reliably collected via Genus ABS' Real World Data®, the world's largest dataset for collecting cow records. Real World Data® holds information from over 3.2 million artificial inseminations, 60% of which is from other genetics companies.
With such evidence, you can be confident that our sexed genetics will get your animals pregnant.
Why should you use sexed genetics?
A unit of semen offers little value to a dairy farmer, unless it parents a female offspring which can produce milk and replace heifers in the herd.
Sexed semen was created to increase the farmer's chances of having female-only calves to increase the profits generated by their business and to offer a more sustainable approach to dairy farming.
Laboratory intervention is required to create sexed genetics. Specialist equipment is used to inactivate sperm cells, based on their X or Y chromosomes.
The sex of offspring is dependent on which chromosomes fertilise the egg, 'X' or 'Y'. A 'Y' chromosome will create a male offspring.
Innovative technology is used to inactivate as many 'Y' chromosomes as possible, to minimise the chance of male calves.
Can I rely on Sexcel® to improve the genetic progress of my herd?
When we launched Sexcel®, six years ago, we trialled our product on various farms to track the progress and performance of it.
Those trial herds are now in their third and fourth lactations and are seeing great results.
Jonathan Caygill, based in Yorkshire, believes that Sexcel® has altered the whole industry and says the fertility of our sexed genetics has been on par with conventional semen, in his experience.
How can I buy Sexcel®?
Interested in using Sexcel® on your herd? Now is the perfect time.
To celebrate the 2023 Rugby World Cup in France, we're hosting a special offer. If you purchase 100 straws of Sexcel® sexed genetics, we'll give you a Genus ABS exclusive rugby shirt in your country style of choice (Britain and Ireland), for free!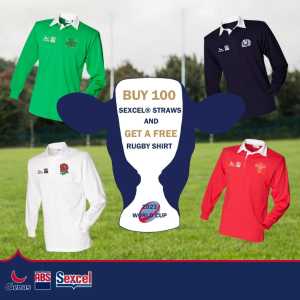 If you would like to get involved and sport a fresh-new look this rugby season, register your interest online, or contact your local breeding advisor via the 'Find my Representative' tool at the bottom of this page.