Due to the cost of production and feed being at an all time high, there has never been a better reason to look into efficiency traits.
By incorporating the best efficiency traits into your herd's genetics, you could save thousands of pounds, every year.
When measuring the £PLI, AHDB take numerous traits into consideration, including efficiency.
Efficiency is measured by considering two main factors; Feed Advantage and maintenance, and makes up 17% of the total calculation for £PLI.
When considering these two factors, it is important to note that Feed Advantage is specific to Holstein breeds only. Maintenance would be the only efficiency factor for other breeds.
When calculating the efficiency of Holstein cows, 58% of the total is reliant on maintenance, with 42% being down to their Feed Advantage score.
How is the maintenance score measured in the £PLI index?
The data used when calculating their maintenance score is collected from the linear data used in bull proofs.
When calculating the maintenance score, 4 different type traits are considered. These include stature (+8.896), chest width (+6.898), body depth (+0.53) and angularity (-2.16.)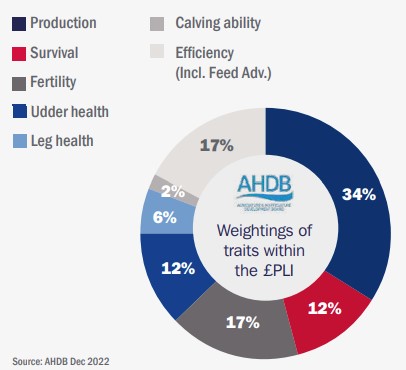 The largest correlation to maintenance is the result of the cow's stature, which is evidenced in the calculation above. Both stature and chest width have the biggest impact when calculating maintenance.
Cows which are smaller will have a better score than a larger cow, proving their higher efficiency rate.
By calculating this score, it allows the breeder to estimate the size and efficiency of the bulls progeny, and helps them to compare one bull's genetics to another.
The range for maintenance figures are expressed on a scale of +50kg to -50g. The lower the figure, the more desirable the trait is.
Genus ABS is proud to own 57% of the top performing maintenance bulls, as of the top 100 genomic availability list, December 2022.
You can view our high-ranking maintenance bulls by visiting our Bull Search. The screenshot of our Bull Search below highlights our top 14 of 154 maintenance bulls.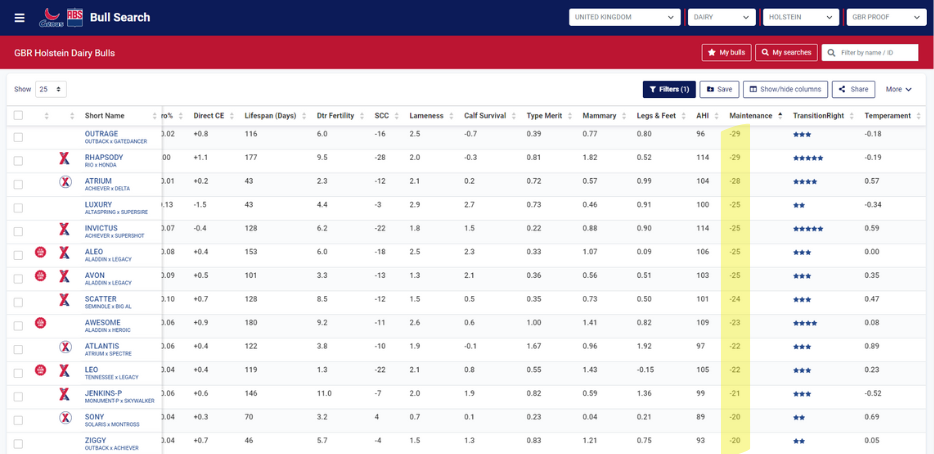 Why is the efficiency of a cow important?
In the image used below, you can see a very large cow stood next to a much smaller cow. The weight difference between these two animals is 100kg.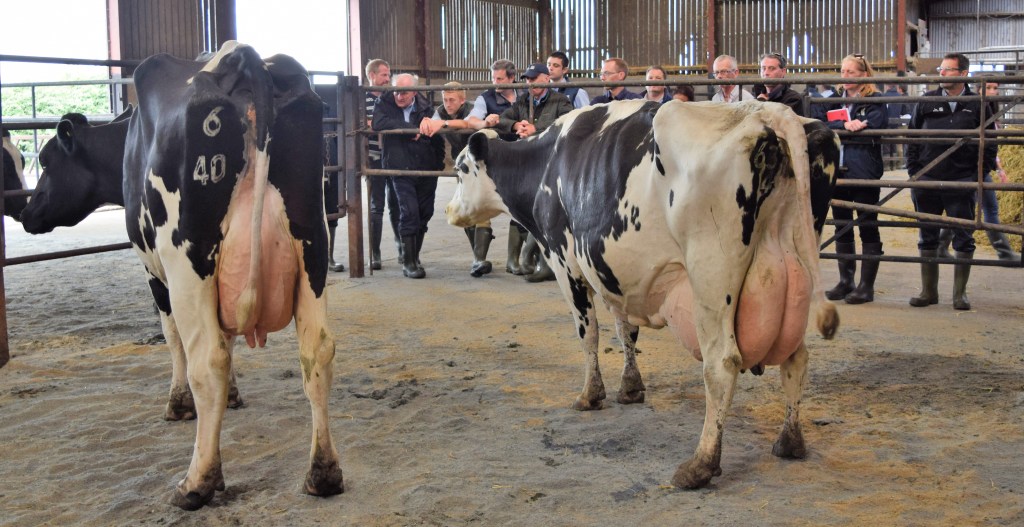 Despite their difference in size, both animals will actually produce the same amount of milk over their productive life.
The smaller cow however, will consume far less food over its life time due to its smaller size.
The average cow needs to consume 2% of its body weight in dry matter intake in order to maintain its body condition and live a healthy and happy life. Therefore a smaller cow will intake less feed for maintenance which could save you upwards of £500 per cow, per lifetime.
It has been found that every 1kg of extra body weight will increase feed costs by over £1.
If you're interested in using our sires to improve your herd's genetic progress, contact your local representative today, or visit our website.
North Wales / Cheshire / Staffordshire: Aaron Bousfield – tel:07967 783662 / mailto:[email protected]
Derbyshire / Shropshire / Leicestershire / Herefordshire / Lincolnshire: Richard Bostock – tel:07970503329 / mailto:[email protected]
Yorkshire / Lancashire: Colin Lucas – tel:07971 118993 / mailto:[email protected]
Gloucestershire / Oxfordshire / Buckinghamshire / Wiltshire: Andy King – tel:07971 119044 / mailto:[email protected]
South Wales: Ceidrych Davies – tel:07971 118614 / mailto:[email protected]
Devon, Cornwall & Somerset: Simon Hancock – tel:07971118911 / [email protected]
Scotland: David Guthrie – tel:07976 334 694 / [email protected]
For general enquiries, please contact [email protected] or call us on 01270 616681