Pregnancy rate, or risk, is a crucial metric measured by farmers to gain insight into the reproductive efficiency and, ultimately, profitability of their herd.
What is the difference between pregnancy rate and conception rate?
The conception rate is the number of services that were required to establish a pregnancy, or as a percentage of a herd becoming pregnant relative to the total number of services delivered.
Conception rate = Total number of services X 100
                                         Total number of pregnancies
An average conception rate is typically around 35-40% for lactating animals and 55-60% for maiden heifers but can vary depending on many factors.
Pregnancy rate is a risk of success or failure per unit of time and is calculated by dividing the number of pregnancies within a 21-day cycle by the number of eligible cows present during that same 21-day period.
Pregnancy rate is less biased than either days-open or calving-interval because it considers all eligible cows, not just successes, and usually contains less lag than calving interval. It is more sensitive to detecting recent changes in reproductive performance and provides useful information for most of the lactating cows.
Maximizing both conception and service risk provides opportunities for management control of reproduction and profitability in a dairy operation.
By understanding this statistic, you will be able to carry out more informed breeding decisions. For example, if you discover that your herd is under-performing when it comes to fertility and reproduction, you might consider investing in more superior genetics to maximise your profit.
A pregnancy rate above 25% is considered to be good, whilst a rate of over 30% would be considered to be excellent.
What factors can affect the reproductive efficiency of cattle?
According to the Biomedical Journal of Scientific & Technical Research, management and environmental factors are responsible for 96% of the variation in conception rates.
This could be down to nutrition, metabolic disorders, reproductive health, heat detection, insemination practices and seasonal climate.
In addition to this, ovarian and uterine pathologies with uterine environment disorders and managerial mistakes are also important factors that can affect fertility in cattle.
How can you improve the pregnancy rate of your herd?
There are numerous actions you can take to improve the overall fertility of your herd. Developing long-term fertility strategies and protocols on your farm will see great improvement over time.
Some key things to consider are:
Pre-calving nutrition and post-calving transition diets
Herd-management technology and software
Use an AI Specialist
Invest in RMS
Work with your vet and nutritionist
Genetics
Herd-monitoring technology, such as Ingenuity, can also be a great step to improving the efficiency of your herd. For many, spotting heat signals can be difficult and can lead to some getting missed.
Using cow collars or pedometers, which can detect those heat signals and notify you straight away, will help you to AI your cows at the best time.
Improving the pregnancy rate of your herd is a team effort by your farm staff, veterinary surgeon, nutritionist and your RMS Specialist.
What is RMS and how can it help your herd's reproductive performance?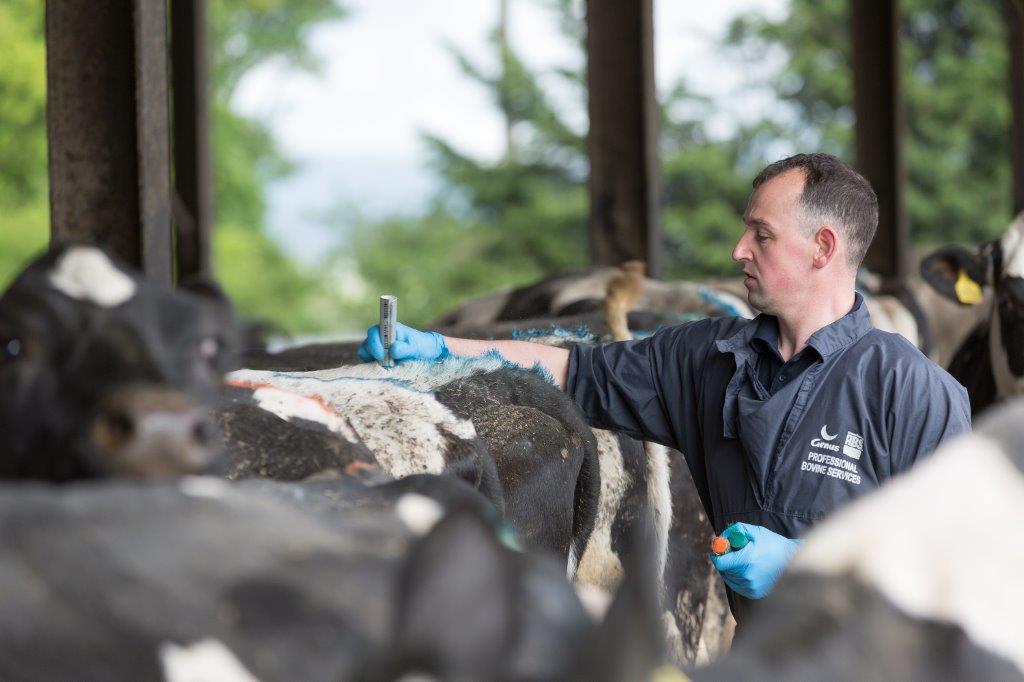 Reproductive Management Systems (RMS) is a service offered by Genus ABS to help you to ensure your herd has the optimal reproductive performance.
Genus ABS' team of RMS Specialists will take care of your heat detection, making sure your cows are always artificially inseminated (AI) at the appropriate time, allowing you time to take up other farm-related duties.
The specialist can sort the right cows for AI, complete technical assessments, and monitor any fertility activities on our Bovisync data management system for you.
By investing in superior genetics for your herd, such as Sexcel® or NuEra Beef Genetics, you can guarantee stronger-performing animals.
Different bulls will offer different strengths in various traits, making it important for you to consider which bulls are best for your herd carefully.
By using indexes, such as Bull Search by Genus ABS, you can accurately examine the traits of every bull marketed by us.
Bull Search allows you to view the bull's performance of every trait, such as daughter fertility, calf survival and maternal CE.
Communicating with your local breeding advisor will help you to pick the most appropriate genetics for your herd.
Ready to improve your herd's fertility and reproductive performance? Contact your local breeding advisor today by clicking the 'Find my local representative' tool below, or visit our website for more information.