Unlocking income with dairy-beef
Improving his dairy herd was the impetus for James Couch to use dairy-beef semen.
For the Nullawarre dairy farmer, it was a simple equation.
Joining the bulk of his herd to proven ABS Beef InFocus™ delivered in-calf cows, but more importantly it helped cut costs.
It's not only cheaper semen compared to what he'd normally use, but it provides a valuable and saleable animal.
James knew exactly where to spending the savings.
"It meant we could spend an extra $4 to $5 a straw on our Sexcel® to get the exact bulls that we absolutely wanted," he said.
"It's instead of trying to skimp and save a bit of money and hoping for a black and white at the end of the day.
"Now we are probably going to get the best animal that we can get and for the rest, we are going to have Angus calves hitting the ground that we can make extra money out of."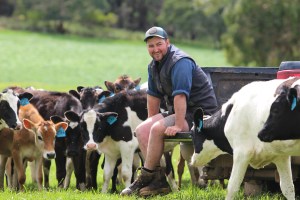 James milks about 270 cows. His herd includes Jerseys, Friesians, Ayrshires, and their crosses. Next door his brother Pat has a herd of 290. The two work closely and rear their calves together in south west Victoria.
Maiden heifers had been calving in mid-April at James' farm, before the herd began calving for six to eight weeks in May.
Seasonal calving works well for the business, but James has plans to move this forward to boost cashflow and better target his use of Sexcel to improve genetic gain.
"Using Sexcel on heifers, we will plan to join them that extra bit early and eventually calve maiden heifers in January and the remaining cows in April and May," he said.
"It is changing our cashflow mainly, but it gives us a bit more security calving heifers earlier as we will have certain pregnancies from heifers. Then we will only need to say get an extra 100 cows in calf to Sexcel. So we can go and buy 200 does of Sexcel then the rest of the herd is joined to Beef InFocus."
"Then all the replacements come earlier, and it is a lot easier for us (in the calf shed) and we can take our time before the InFocus calves come in later."
Fertility is one of the primary breeding focuses for James because of his seasonal calving system.
No bull is considered if it has low fertility – regardless of its other traits.
Other breeding focuses include production, shorter stature, and stronger cows as well as better feet and legs.
Sexcel is used to join heifers as part of a fixed time artificial insemination program and any return heats are also joined to sexed genetics – but those with a shorter gestation.
Sexcel is used across the "top" cows in the herd. These are determined by James and includes the most fertile and youngest cows.
This was the first season James and Pat used Beef InFocus. Next year they anticipate about 400 of their cows – across both herds – to calve to InFocus.
"I'm pretty confident they are going to come out black and with beef characteristics," James said. "I have no issues with them coming out of a Jersey because we have bred our Jerseys that way, to spit out whatever we join them to. Plus, InFocus is sold as a calving ease bull, so it was a no brainer for us."
Beef InFocus sires have been proven in more than 300 herds globally and are the only beef-dairy cross product with validated dairy calving ease data, according to ABS.
Beef InFocus was intriguing for James and Pat because of its potential to provide an additional income stream for their business.
Previously, the brothers had sold bull calves on the local calf truck or via private sales.
Now, they will decide on the market for their InFocus calves based on the season.
"With the InFocus, if it is going to be a good year and we have excess grass we will continue to rear them and have that revenue stream to later sell-off to a feedlot or abattoir," James said.
"If not, people are always looking for black cattle, it will be easy to move them on."
Having the ability to easily breed dairy-beef and an organized market is something James has been waiting for in the Australian dairy industry.
"Over in America and pretty much everywhere else around the world, apart from Australia, dairy farmers have that opportunity for extra revenue with beef," he said.
"With the last couple of seasons we've had up north (in Australia) there has been a lot of destocking and I'm sure many farmers would be looking towards these dairy-cross cattle to restock because they still have that look they are chasing."