Complete package sire offers something for everyone
ABS Holstein bulls make up six of the top eight sires in Australia
Exciting new Holstein outcross polled sire proves his worth
Proven sires continue to dominate sales
A Gippsland-bred polled Jersey gives breeders more options
A BULL with exceptional production, type and fertility has been crowned Australia's top proven Holstein sire in the latest Australian Breeding Values release. The fact he's "streaks" ahead of his nearest rival at the top of the Sustainability Index (SI) – at 1217 – is an added bonus.
Pine-Tree HURON – at 536 Balanced Performance Index (BPI) – couples big milk, protein and breed-leading udders with high-ranking fertility and farmer likeability. He's the "complete package", according to ABS Australia Business Operations Manager Bruce Ronalds. "This sire pretty much has everything, he's unique in the sense that he has really high ASI (production) with good type," Bruce said. "He's a really good example of how ABS uses strategic mating to develop sires for different dairy farmer breeding objectives."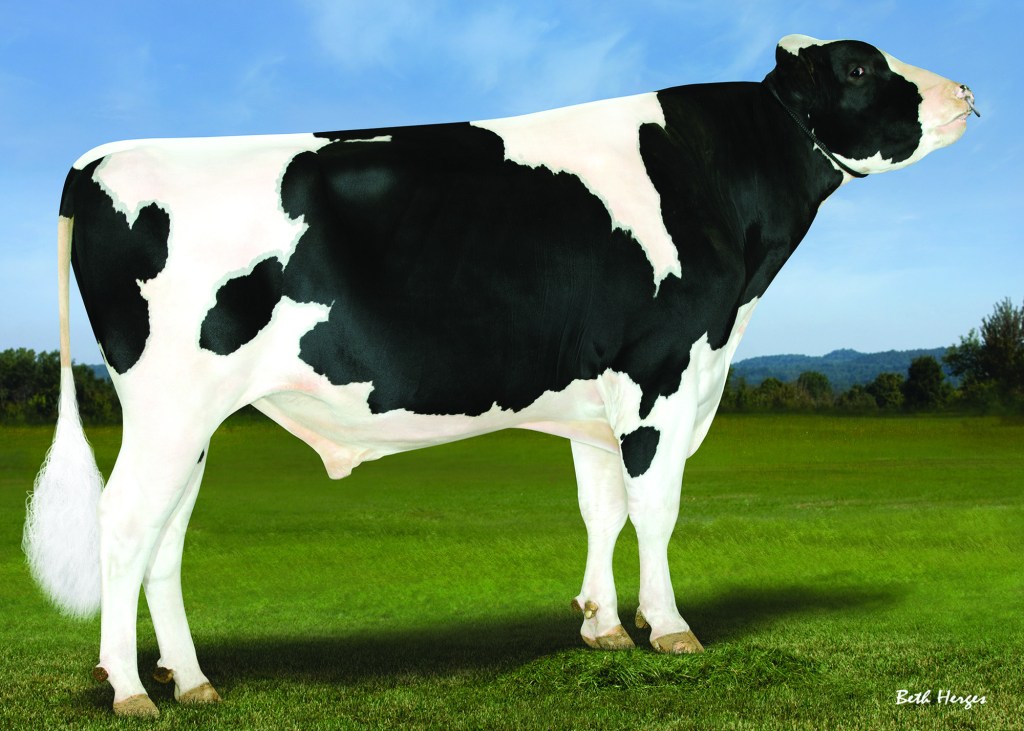 "For example, HURON can be traced back to the famous View-Home Uno Hope cow, and has huge production, while other sires with similar lineage, Carters-Corner DAZZLE and Carters-Corner Fc HI HOPE, are kicking goals in the show ring because of their exceptional type. DAZZLE is a standout, offering high Type +3.50 and Mammary +3.48 with elite Daughter Fertility of +1.6 which is unheard of. Bringing bulls in from the US means we get the benefit of the huge genetic pool of our parent company Genus – and its global reach- while also delivering for our local customers by only choosing sires that are profitable for Aussie dairies."
Dairy farmers milking HURON daughters are now choosing to use the sire again, a "testament" to the quality of the bull, according to Mr Ronalds. He also anticipates dairy farmers breeding for a lower carbon footprint and using the Sustainability Index will also look closely at HURON.
Timboon dairy farmer Jason Smith, Ja Dale Holsteins, has a HURON heifer producing 36 litres a day with a PI of 115 in a herd of 200 cows. She was recently classified 85 points as a two-year-old. Jason chose to breed with HURON because of his impressive genomic proof, US figures and his lineage back to the strong American cow family Martha Sheen.
"This HURON heifer, she has an outstanding rear udder, high milk flow and production. If farmers want to fill their vat – HURON is the bull they want," Jason said.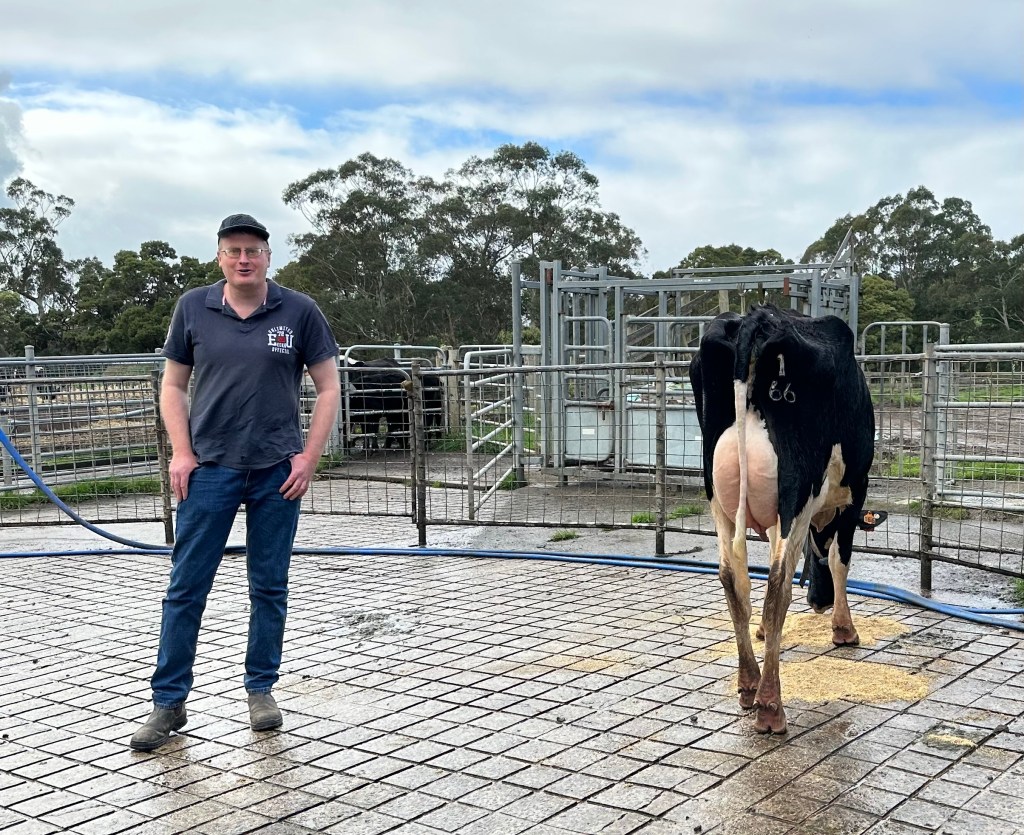 HURON's success comes as ABS also claimed the top four positions on the proven Holstein ABV list as well as six of the eight highest ranking sires. Mr Ronalds said dairy farmers still want to use proven sires. "There are people who think the industry has moved away from using proven, reliable sires, but we know a lot of our sales – both Sexcel® and conventional semen – are from proven sires," he said. "Dairy farmers want to know that the sires they choose, work in Australian conditions and ABS delivers that, consistently, through strategic breeding and selection."
Denovo 14744 GINETTA continues his run in second position but has improved his BPI to 523, while long-time standout ABS JERONIMO P is at number three with 504 BPI and 829 milking daughters.
One of ABS Australia's most popular sires, Pine-Tree DURABLE, has pushed up the chart and now sits in fourth place at 479 BPI. "It's pretty exciting when one of our biggest sellers, DURABLE, enters the top five after adding more daughters to his Australian proof and lifting his BPI," Mr Ronalds said. "Then there's DG CHARLEY, rounding out the top six, he's the sire of DURABLE and we are getting lots of enquiry for him now."
Genomic homozygous polled sire Denovo 4798 ESTATE PP – the number 1 polled and sitting in the top 10 available genomic bulls – provides an Australian outcross for those who want to quit disbudding by adding polled to their breeding criteria. He is now one of 34 homozygous polled sires available to Australian farmers marketed by ABS. "It's never been a better time to breed for polled," Mr Ronalds said. ESTATE PP guarantees 100 per cent polled progeny and has the added benefit of high daughter fertility, good mastitis resistance and teat length. ESTATE PP adds to the ABS Australia polled offering that was previously dominated by high demand TTM ELLIS PP and ABS expects unprecedented demand for both of these polled powerhouses.
Jerseys on the rise
ONE of Australia's most promising Jersey sires Forest Glen Craze TRIPP is adding daughters to his proof and rocketing-up the Australian Breeding Values genomic chart. At 390 Balanced Performance Index (BPI), he has 30 daughters and is impressive as a genomic sire.
ABS Australia Business Operations Manager Bruce Ronalds said there's been "really good reports" from farmers milking TRIPP daughters. "He's one of the highest daughter fertility sires in the top 10 and has long teats too, at 109 for Teat Length," he said. "Both of those traits are sought-after in the Jersey breed, so it's not surprising he's growing in popularity."
The future is also bright for Australia's newest, and highest ranked, polled Jersey. Bred in Gippsland by Luke and Mel Wallace, Wallacedale VAST P (CSCVAST-P) is 398 BPI, 108 for Type and 110 for Udders. He offers stature, strength and body and is out of the outstanding dam Wallacedale Tahbilk Madge P EX-92.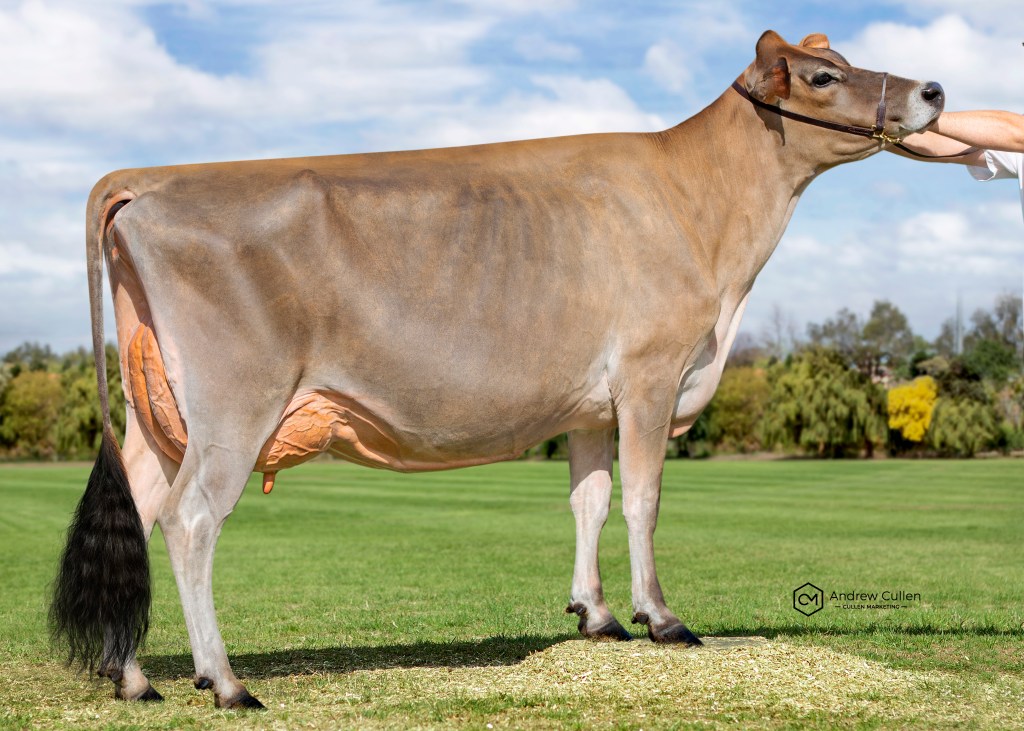 Reds deliver across the board
HALF of Australia's best up-and-coming Red bulls are ABS Australia sires bred through ABS' relationship with Geno. And this domination comes as nearly 90 per cent of the top daughter fertility sires are also sold by ABS in Australia. This domination is "no surprise" according to ABS Australia Business Operations Manager Bruce Ronalds due to the daughter fertility focus for many years in the Norwegian breeding program where these genetics are sourced.
This strong sire line-up includes the recently popular FINSLAND P – a high production and daughter fertility genomic sire. The polled sire, which is also A2, ranked well in the April Australian Breeding Values release and gained traction during the past three months.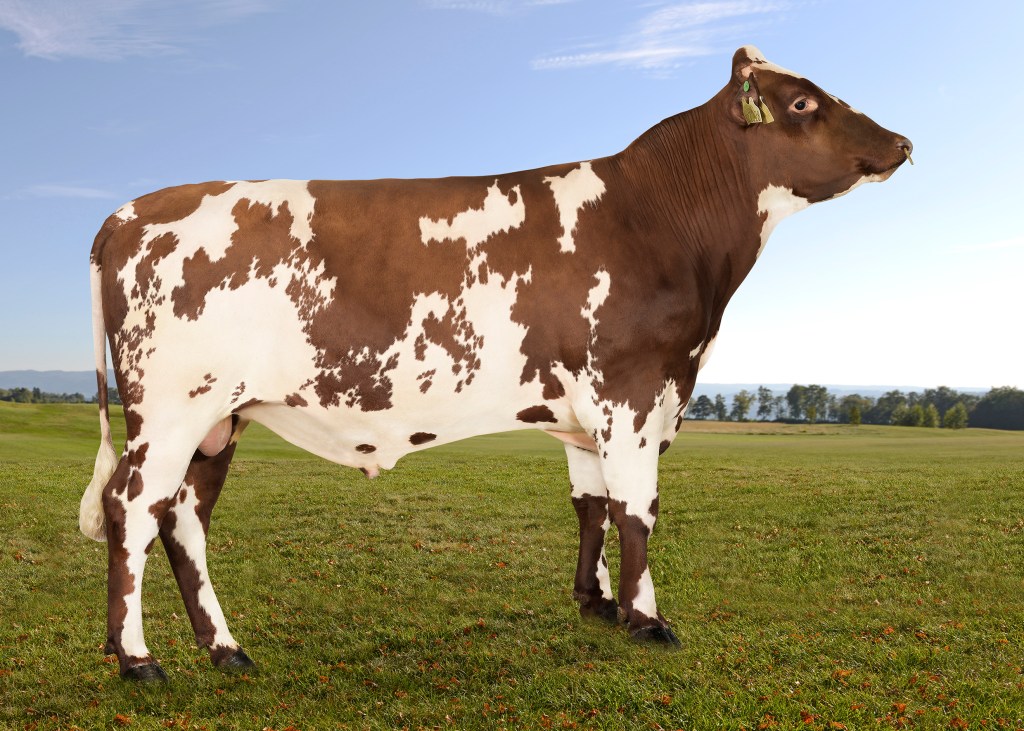 Across in the proven list, at number 2 for BPI is HUSTAD who is ticking all the boxes for Red breeders. With production, and 102 for Type, 102 for Udders, 103 for Dairy Strength, 103 Daughter Fertility and 105 Slope of Rump – he's the whole package.