Jersey genetics that deliver
Reliability and proven top-end genetics underpin one of the newest Jersey bulls to hit the Australian market.
29JE4487 Murray Brook MOTIE – sired by the number one proven Jersey bull Jeronimo – is set to deliver the high milk flow and breed leading protein characteristics of his sire, with a fertility boost from his dam and maternal grand sire Valson.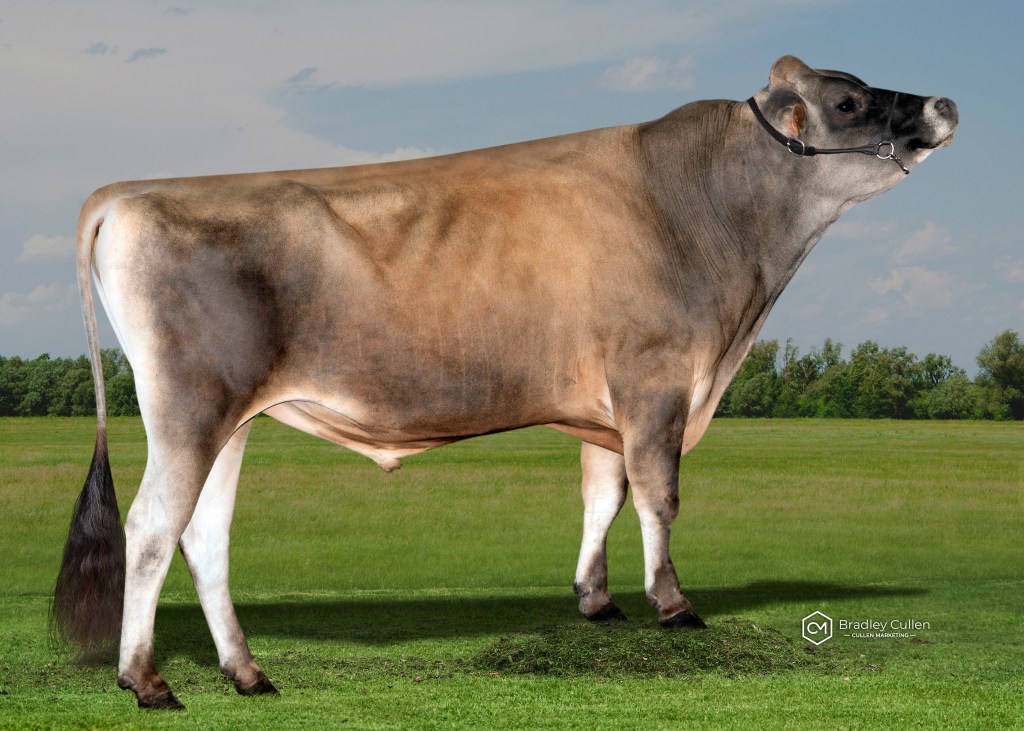 Jeronimo is Australia's top proven Jersey at 379 Balanced Performance Index. He leads the Sustainability Index at 905. Valson is the best Jersey health trait bull. Together, these genetics have delivered a unique offering for the Australian Jersey breed, according to ABS Australia Sales Representative Alan Blum.
"With the rise of genomics, a sire hitting the market from older, proven cows with years of performance and industry-leading genetics is unique," he said. "It's rare for a bull to be going into AI that's got a proven sire and its dam is on her sixth lactation. There are very few genomic sires by proven bulls now."
Bred by south west Victorian dairy farmers Paul, Lynette and Adam Lenehan, MOTIE comes from an eight-year-old Valson cow that was classified 87 points as a two year old. From a cow family that the Lenehans have been breeding for more than 55 years, the dam of MOTIE goes "unnoticed" in the herd of 430 cows. She's consistently calved each year, has good type and produces well, according to Paul.
The decision to breed her to Jeronimo was made by the Lenehans' trusted breeding advisor Amy Wright. Paul said she picked Jeronimo based on his American proof, but since he had daughters on the ground in Australia his local "numbers" went up.
The Lenehans bred eight heifers from Jeronimo with the best three-year-old classified 91 points, the maximum for a cow of that age. "The Jeronimos are all well put together cows, with a bit of strength," Paul said. "Strength and structure, that's what people are looking for now and it helps with the efficiency of the Jersey – the kilograms of solids produced per kilogram of liveweight."
The Lenehans' herd produces, on average, 140 per cent of their body weight in milk solids.
"In a year like this, when it's so wet, a cow that's only 450 – maybe 500 kilos – can still produce 650 kg of solids," Paul said.
Alan Blum said there's a lot of demand for Jeronimo's bloodlines as the sire is no longer available. But he said MOTIE was a unique sire because he provided benefits from two strong bloodlines – and in many cases will surpass his breed-leading sire. "MOTIE will have an advantage over his sire in body depth and chest width, better rumps with wider pins and lower pin set," he said. "He will also offer better udders than his sire, with his genomics indicating higher and wider rear udders, stronger centre ligaments and improved teat placement. On top of this, he has health traits from his maternal grand sire, Valson. Valson has a unique 110 for Daughter Fertility, 166 for Somatic Cell Count and 113 for Survival. He's number two in the Jersey breed for delivering long-lasting progeny."