ABS is proud to offer innovative solutions aimed at maximizing profit from genetic progress for our customers. Thus, drum roll please… We introduce GENEadvance®, a program designed to accelerate genetic improvement by delivering better future herd performance. The program combines our genetic expertise and a customized plan specific to your herd with the latest in genomic technology and marketing-leading genetics.
We start by understanding your goals, analyzing your herd's genetics, selecting the right genetics to maximize your breeding program, and deploying the right genetics on the right cows. Precision is key for genetic progress and that is the "why" behind the development of GENEadvance.
Custom Index
GENEadvance starts with a custom index. We often get questions on why producers should consider utilizing a custom index. Why should I use custom index verse utilizing national evaluations? With a custom index, you are not relying on what the industry deems important. You are defining the genetic progress you want to make based on the traits that are relevant for your herd and market environment. Mate by custom index and maximize your genetic potential.
Genetic Analysis
If a custom index defines the genetic progress you want to make, using genomic testing increases the speed and accuracy of implementing that. When comparing accuracy by prediction methods calculated at birth, genomic testing is 80 percent accurate as compared to parent average at 57 percent.
Accuracy is important because the more accurately you predict values, the more likely the animals you select are the best. Understanding the genetics in your operation helps you identify the potential of each cow in your herd—helping you build more profitable and easier to manage cows.
The performance and genetic progress in your herd is vital to your livelihood. We understand that. GENEadvance was designed with that thought in mind.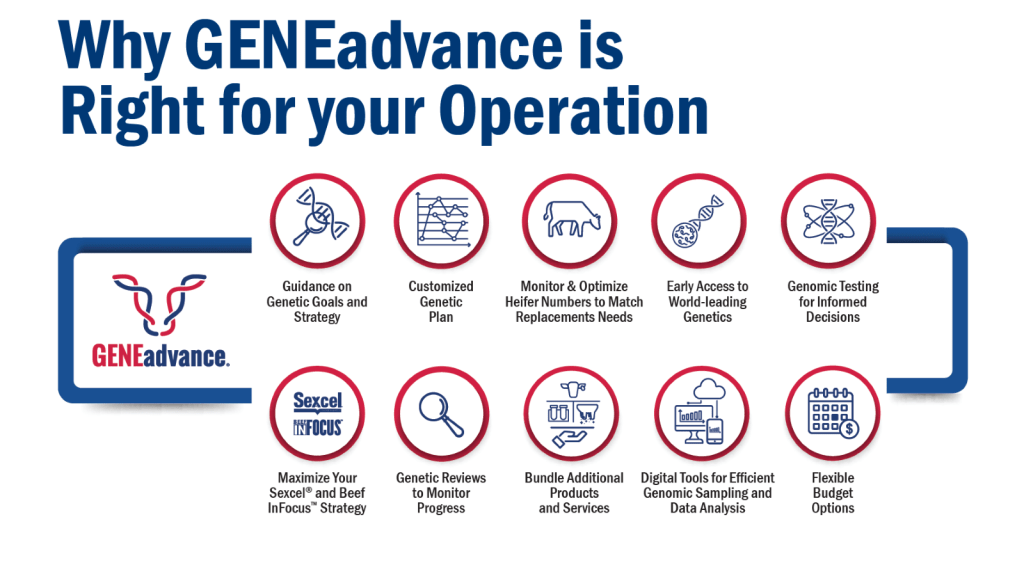 You set your goals; we'll help you reach them.
What does the future look like with GENEadvance
A customized breeding plan with improved accuracy through genomic testing
Genetic selection designed to maximize genetic potential
Genetic reviews, expertise, and support from a partner that cares about your success
Discuss GENEadvance with your ABS Genetic Advisor today!