Beef is finding its way to consumers' dinner tables more frequently, so the demand for high-quality beef is growing around the world as a key animal protein source. Thus, the beef supply chain is searching for a consistent supply of healthy, predictable, and profitable animals to fill feedyards and processors.
But, why does this impact you as producers?
The beef supply chain compensates producers based on the profitable performance of the animal created—regardless of if you are a dairy selling beef cross calves or a beef producer. Producing high-quality animals that perform consistently is key to your profitable and sustainable future.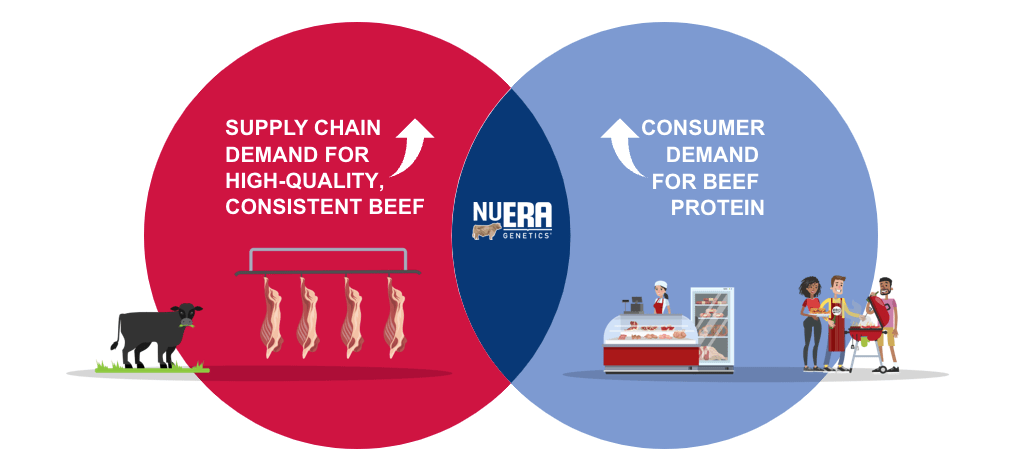 How can ABS Global help?
Genetics plays an important role in every system, from producer to processor, in creating valuable animals for the beef supply chain. Thus, coupling a custom-fit genetic plan with climate-smart beef genetics specifically designed to meet your goals is key to ensuring you get the value created with these high-quality animals. And this is where ABS can help you reach your goals.
The Inception of NuEra Genetics®
Foreseeing this need across the supply chain, ABS Global created NuEra Genetics in 2014 and stayed true to our pioneering mindset with producer needs as the top priority. NuEra Genetics symbolizes the next chapter in the history of ABS beef genetics: in short, a distinctive new era of ABS beef genetic improvement. A chapter that is focused on providing robust improvement and delivering value to customers throughout the beef supply chain. ABS NuEra Genetics is focused on the needs of producers and the entire beef supply chain with an exclusive climate-smart beef genetic program providing unique and top-performing terminal beef genetics.   
This program encompasses all proprietary ABS beef breeding programs, evaluations, and indexes. As our exclusive terminal genetic line, NuEra Genetics was developed to improve profitability through focused terminal genetic selection. NuEra sires are an SimAngus hybrid composite selected specifically for growth, feed efficiency, and carcass merit—all traits important to the beef supply chain.
NuEra Genetics serve as an ideal terminal solution by maximizing productivity, efficiency, and sustainability
Five Foundations of NuEra Genetics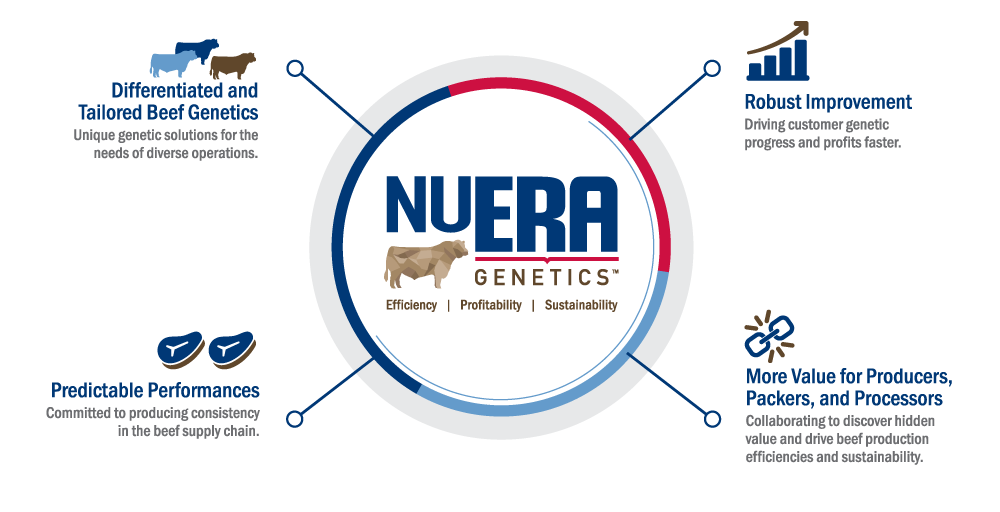 With NuEra Genetics, we strive to:
Provide differentiated and custom-fit beef genetics that offers unique genetic solutions for the needs of our customers
Drive genetic progress and profit faster through robust genetic improvement
Provide predictable performance by creating a more consistent product for the beef supply chain
Produce more value for the entire supply chain
Improve production efficiencies by reducing production costs, thereby adding profitability and increasing sustainability
The Global Impact of NuEra Genetics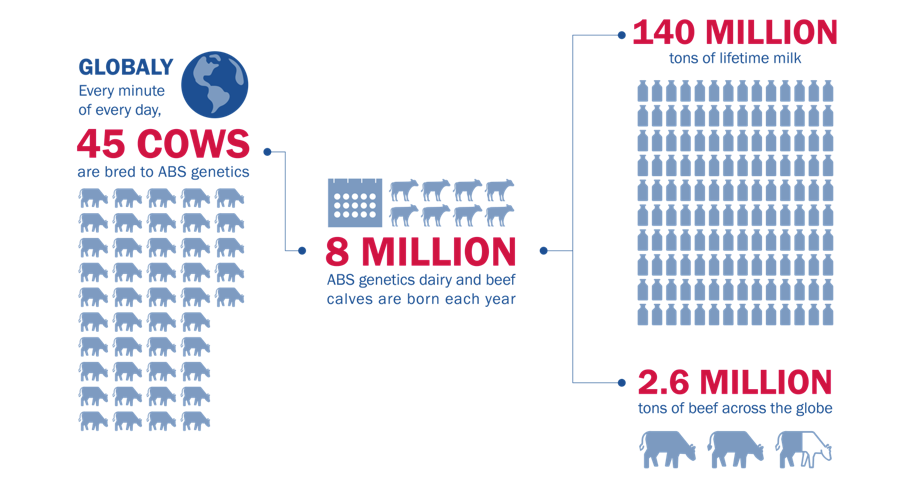 Every minute of every day, more than 45 cows are bred to ABS genetics all around the world. This results in 8 million dairy and beef calves born each year, producing 140 million tons of lifetime milk and 2.6 million tons of beef around across the globe. Watch this video to learn more about the impact NuEra Genetics has around the globe.
Sustainability with NuEra Genetics
Knowing that becoming more sustainable is a huge global initiative it is important to know that a more sustainable future starts with productive and efficient genetics. Within the three key pillars of sustainability, NuEra Genetics specifically targets each area: economics, social and environment. 
How to deploy these genetics in your operation?
NuEra Genetics at Work on Dairies
As you know, the use of beef on dairy has become a routine genetic management strategy. For dairy producers looking to create value with NuEra Genetics, consider our Beef InFocus program which delivers proven and reliable beef genetics for dairy producers to maximize calf crop value while driving beef supply chain efficiency.
Beef InFocus takes the guesswork out of selecting the right beef sires to use on your dairy while maximizing animal performance within the supply chain.
Differentiate as Beef Producers with NuEra Genetics
For beef producers looking to differentiate themselves in the market, NuEra Genetics provides you the perfect opportunity to produce cattle genetically designed for end-point profitability. NuEra Genetics are available in heterospermic packs that contain multiple bulls with similar elite index values. Additionally, a select set of NuEra Genetics are available in individual Sexcel® male product only, allowing you to strategically segment your herd and maximize value.
Note: Not all products and services are available in all areas. Please contact your local ABS representative for a complete listing of products and services
Make matings with intent with NuEra Genetics, a product line designed to perform and impact your bottom line.
Bred with profitability, efficiency, and sustainability in mind, NuEra Genetics by ABS Global is your dependable source in creating animals highly valued by the beef supply chain. The predictable performance offered by NuEra Genetics will have you seeing additional value in your calf checks or closeouts.
Interested in taking the next step in beef genetic improvement by utilizing NuEra Genetics?
Reach out to your ABS Representative or contact us via the form below today.
Find Your ABS Representative