The right game plan always wins. Why should your genetic plan be an exception?
Farmers around the world are drafting their winning plan with ABS. Are you?
Optimizing heifer inventory with sexed semen and maximizing return on the remaining pregnancies with beef genetics is becoming the worldwide adopted genetic management approach. Though it is not new to the dairy industry, being laser focused on choosing the right genetics to deploy on the right females might be the missing piece of your plan that is preventing you from winning.
Have no fear! By implementing ABS Global's Winning Game Plan, dairy producers around the world are experiencing unbeatable, step-changing genetic progress and maximizing profitability from all females in the herd with a Sexcel® and Beef InFocus™ strategy. Here's how it works: you hand-select the highest genetic quality females to create your next generation, then sort off the lower genetic quality animals to produce a high-value beef cross calf.
Four Steps to Your Winning Game Plan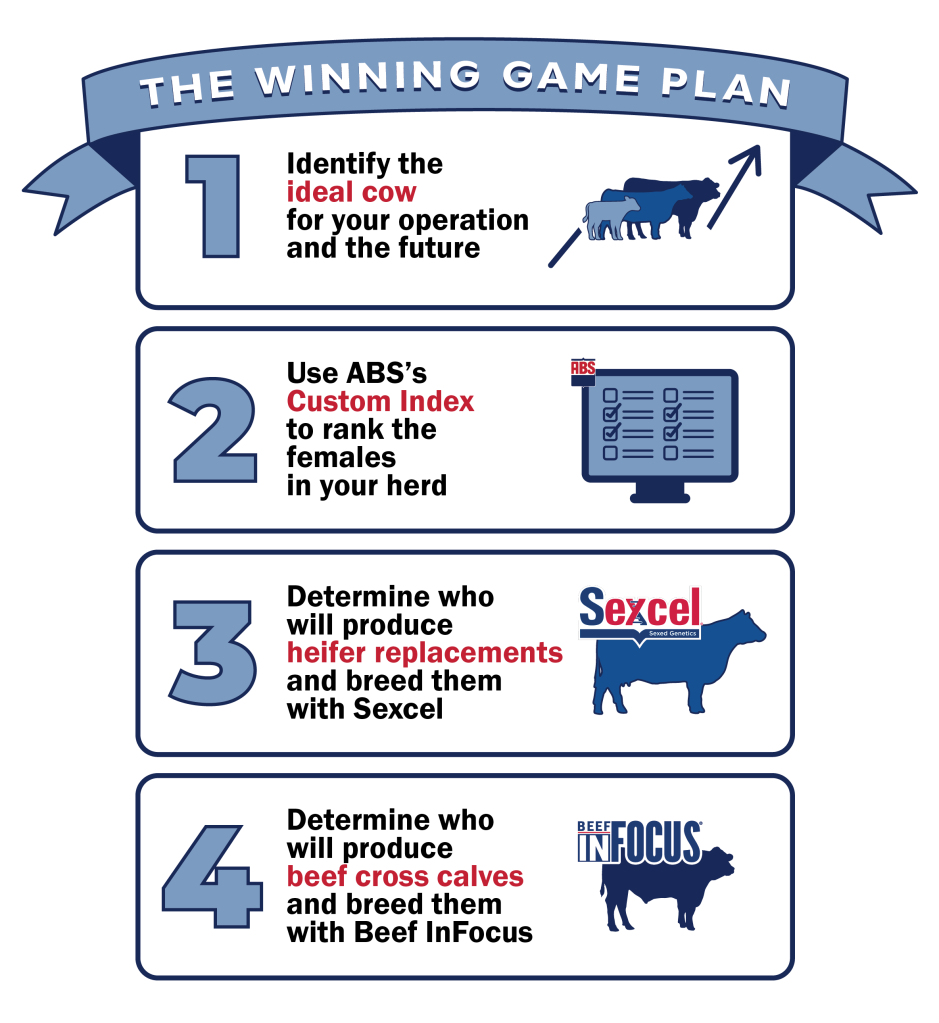 Adopt the Winning Game Plan to maximize productivity, efficiency, and profitability of your entire herd.
Sexcel: The Industry's Best Fertility Sexed Product
Getting heifer calves on the ground is your priority. With the best fertility sexed product available, as well as the most accurate method for reading gender skew in the industry, Sexcel is your solution to producing the right number of heifer calves for your herd.
With more than 1.6 million inseminations proving a 3.3% higher conception rate for Holstein cows and a 3.0% higher conception rate* for Holstein heifers compared to competitive technology, you can have confidence that Sexcel is the best fertility sexed semen in the industry.
Not to mention, Sexcel is the 'MVP' of sexed semen for combining superior fertility with the most profitable ABS genetics. Sexcel is your game-winning assist for speeding up genetic progress and better managing heifer inventories.
*Based on percentage increase of conception rate.
Beef InFocus: Maximize Dairy and Beef Supply Chain Profitability
Beef InFocus is beef on dairy, but not like you've seen before. Our program provides you the best solution for the lower genetic quality females within your herd. Beef InFocus provides dairy farmers with reliable beef genetics that increase the value of their calf crops and improve the efficiency of the beef supply chain.
When compared to other beef on dairy programs, Beef InFocus takes the top spot. And, here's how.
Beef genetics that are bred by design
Beef genetics that are validated for dairy performance
Beef genetics that are intended for beef supply chain marketability
InFocus sires are specifically selected for traits the beef supply chain desires—growth, feed intake, and carcass quality, but evaluated upon performance on dairy before entering the lineup. We offer dairy producers the only beef on dairy program that tests and hand-picks bulls based on dairy performance. Our entire lineup has been proven to perform on dairies, so you can assure consistent performance.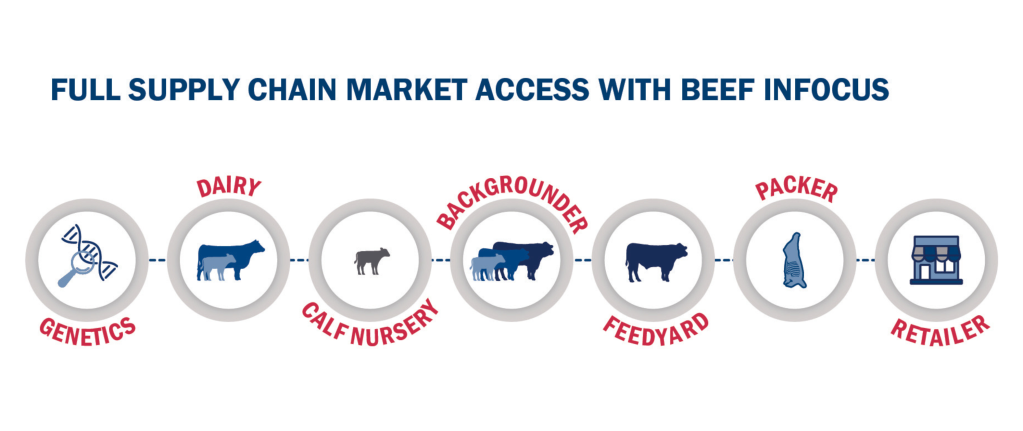 Beef InFocus is the only program that provides dairies with full supply chain market access. Because of our strong emphasis on terminal traits in our genetics, we have developed beef supply chain networks that appreciate Beef InFocus and the investment we made in developing the best beef crosses the market has to offer.
Beef InFocus is a slam dunk for increasing your dairy's profitability through maximizing returns on the remaining pregnancies by creating a differentiated, traceable, and premium beef cross calf.
Check out what the scouting report says from some of your peers who have implemented the Winning Game Plan.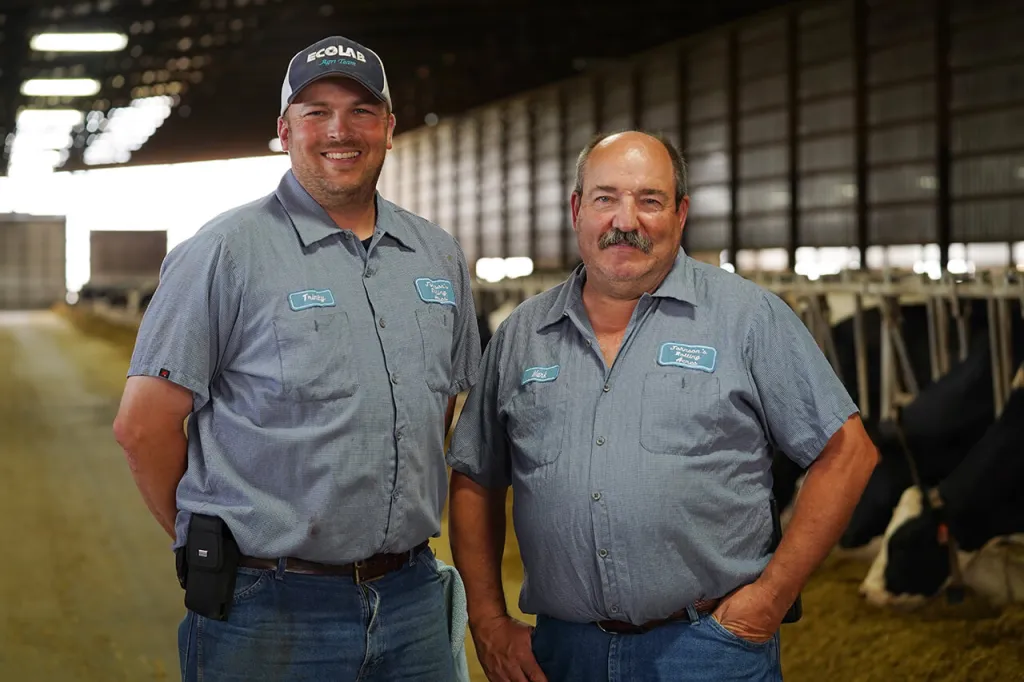 "We're trying to take advantage of the genetic potential all of our cows have through the GMS mating and we are trying to eliminate the worst by getting rid of those genetics with the beef and also the time same time we're producing a calf that we're getting a really nice premium on compared to our regular Holstein bull calf."
Johnson's Rolling Acres
"ABS has allowed us to accelerate genetic progress and now that we know we have the capability of getting a heifer calf out of our best cow and getting a […]
Helt Dairy
The Winning Game Plan: Sexcel and Beef InFocus
The difference between winning and losing a game depends on your game plan. Make sure your dairy has the Winning Game Plan for sexed and beef genetics by implementing a Sexcel and Beef InFocus strategy. Contact your ABS Genetic Advisor to discuss your Winning Game Plan or complete the form below.