In a cowherd, the most profitable thing a producer can manage is reproduction. Estrus synchronization is a reproductive management tool that can be used to increase efficiency and profitability in beef cattle operations. A cow that becomes pregnant, carries to term, and weans a calf every year pays for her to stay in the herd. Reproduction in the cowherd is key for beef producer's profitability because of marketing the offspring as weaned calves. While most choose not to implement synchronization protocols and artificial insemination program in their herds due to labor, ABS Global firmly believes the benefits far outweigh the challenges in terms of efficiency and profitability. With a genetics and reproduction partner like us, the benefits are numerous.
The Benefits of Synchronization
Increase the number of heifers bred early in the breeding season  
Increase profitability from early calving cows, calf crop uniformity, and heavier calves at weaning 
Increase longevity of females in your herd 
Increase in days postpartum which promotes better breed back of females  
Increase the total number of females bred through increased opportunities to become bred 
Increase value of replacement females created  
Decrease the number of bulls and facility space needed 
Decreased calving season, thus shortening the labor and time needed  
Estrous Synchronization programs allow beef producers to improve the rate of pregnancy production during the breeding season through increased submission rates. Thus, synchronization programs increase the number of females that get bred early in the breeding season and calves in the first 30 days of the calving seasons. All leading back to the benefits as described above. Protocols involve MGA, CIDR®, prostaglandins and/or gonadatropin releasing hormone.
2023 Synchronization Protocols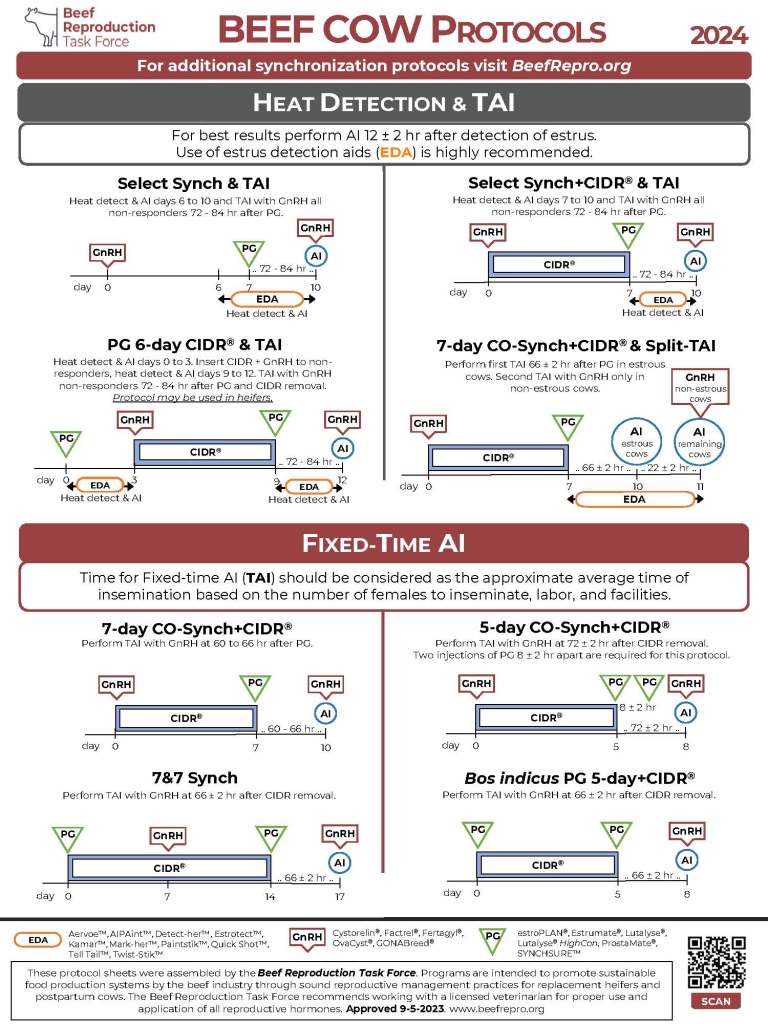 Maximize Success of Synchronization Programs
Obtain good protocol compliance and hormone handling and administration
Have a high percentage of cycling females
Develop accurate and efficient heat detection
Have adequate facility and animal identification
Ensure a suitable number of day postpartum in females
ABS is a proud member of the Beef Reproduction Task Force, which includes members of the scientific community, pharmaceutical industry, veterinarians, and semen companies. The task force is responsible for creating the list of recommended estrus synchronization protocols that have been tested and found effective in beef cattle. While implementing a synchronization program may be overwhelming at first, ABS has the people with reproductive expertise to help you every step of the way. Reproduction is our passion. Let us be your partner in reproduction.
Get in touch with an ABS reproduction expert today! 
Find Your ABS Representative