The mating program you can trust with a robust database.
Knowing the impact genetics have on a herd and profitability over time led our team in 1968 to develop the first mating program, Genetic Management System (GMS). Today, we celebrate 55 years of GMS, a tool that has already performed more than 165 million mating recommendations in its lifetime.
The Genetic Management System began as a traditional mating program. However, it is truly so much than that nowadays. In its truest form, it could be considered the original Custom Index because of the conversations it started with producers about the goals of the operation, how they market their milk, and the ideal future cow for the dairy. This tool is designed to deliver a genetic plan that is customized for each dairy's needs.
The Genetic Management System helps dairy producers make genetic progress by creating better cows that suit their needs and bring more profit to the dairy. The mating program enables you to rank your females, allowing you to choose where to invest your money and where your next generation will come from. Then, it provides you with a per-cow breeding strategy along with your knockouts for lethal haplotypes and recessives. By utilizing GMS, you can focus more on managing your business to its utmost potential and worry less about your breeding plan.
Why Your Peers Use the Genetic Management System 
Your Benefits with GMS
Customization 
Inclusion Genomics 
Robust Database 
Manage Inbreeding 
Recessive and Haplotype Protection 
Safeguard Heifer Calving Ease  
Customize GMS for You
We understand that one size may not fit all. That's why our mating program is designed with the flexibility to tailor the program to fit your dairy's needs. Our Genetic Management System can be customized more than 150 different ways. And that is even before we choose the sires! Customization is achieved through the Customer Controlled Breeding options which are adapted to your dairy's specific objectives.
When looking to customize, we will work with you to answer all the right questions. Here are some examples of questions to think about.  
How is the market changing?
How do you receive payment and bonuses for your milk?
Are you satisfied with the size of your cows?
What kind of facilities do you have?
What are your future plans for your dairy?
Regardless of how you choose to custom your mating plan, some features always come standard with the Genetic Management System. This breeding plan will always assist you in managing inbreeding levels, offering complete protection against detrimental recessives and haplotypes, and maintaining heifer calving ease.
Ways to Customize
You can choose from five production and five conformation options, respectively, which include robot specific that fit your operation best.
You can rank three different objectives: increased production, gaining efficiencies through improved herd health, and better cow conformation.
Measuring Progress
If you cannot measure it, making progress becomes more difficult. That's why the Genetic Management System allows you to keep close track of your herd's genetic progress with more than 14 different customizable reports. You can even get reports that help you manage your semen inventory, monitor inbreeding, and visualize herd progress for production, health, and type traits.
GMS and Genomics
Using genomics in the Genetic Management System helps deliver more accurate mating recommendations. First, you can manage genomic inbreeding. We know that every A.I. company calculates inbreeding differently which makes it impossible to compare percentages calculated by different companies.
With genomic inbreeding, the percentage of common genes found on an animal's genome is reported. GMS uses these genomic inbreeding percentages to help manage herd inbreeding with more precision than ever before.
Secondly, using genomics within the mating plan removes phenotypic bias. he phenotype of an animal is a combination of her genetics with her environment. This combination determines how healthy she is, how big she grows, and how much milk she produces.
However, only her genetics will be passed onto her offspring, not environmental factors that have impacted her throughout her life. Thus, utilizing an animal's genomic information provides more accuracy and removes any possibility of phenotypic bias from affecting the mating recommendation.
Celebrating the History of GMS 
Genetic Management System: How We Started 
In July 1968, ABS launched the initial Genetic Management System mating program through the hard work and dedication of Dr. Bob Walton and Doug Dodds. The duo created a numerical scale to evaluate cattle that would work best for computer analysis and started with ten traits. At the time, the only reliable data available was milk production data from USDA. There were only "descriptive type categories" used in the industry which were subjective and not standardized.
The two first evaluators for GMS were Doug Dodds and John Stewart. They spent their time traveling the United States to evaluate herds. However, because the process was simple, dairymen could evaluate their own herd by using a picture brochure from ABS. We've evolved so much since then, and the process today is much simpler than you might think. Take a stroll through then and now of the Genetic Management System via the timeline below.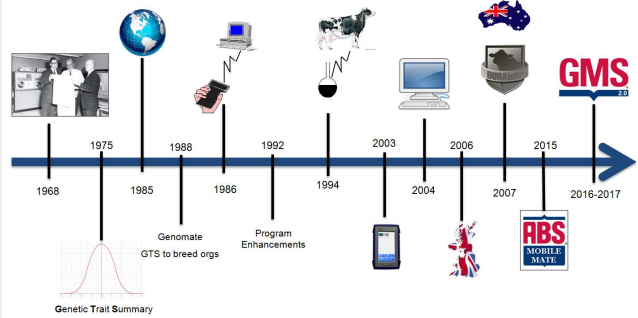 GMS: The Tool Used Around the World
52 countries 
13+ Million cows 
2075 New GMS customers added globally last year 
300+ customers had a Genetic Audit 
The Genetic Management System is an innovative and robust mating program that was built with your unique opportunities in mind. As a genetic company, we understand genetics are always improving, and we believe your mating program should continue to offer sound, unbiased mating selections based on economically important traits to create longer-lasting, profitable cows.  
Deploy GMS as a tool on your dairy by contacting your Genetic Advisor or completing the form below.
Find Your ABS Representative