ABS Global is committed to providing customers with data-proven and reliable genetics to drive profitability for dairy producers. Beef InFocus is a great example of that. There are many beef cross programs growing traction in our industry. But what differentiates ABS from the rest is that our program is powered by our terminally-focused NuEra Genetics program.
Launched in 2017, NuEra Genetics delivers differentiated and superior terminal genetics for beef supply chain profitability. We choose the best sires and use the most elite donors—and that gives ABS the ability to increase overall selection intensity and make quicker genetic progress to meet the needs of both the beef supply chain and dairy producers.
With dairy producers top of mind, ABS looks at four trait categories that drive genetic improvement and profitability on a dairy: genetics, production, fertility, and calving. They play major roles in milk production, and ultimately, your milk check. We know milk production is the dairy's main profit center. That's why the mission of our Beef InFocus program is to add additional revenue by maximizing calf crop value without compromising milk production. Before any sire makes it to our Beef InFocus lineup, we measure their predicted performance through Real World Data, calving observations, and our proprietary indices to ensure they meet genetic improvement thresholds.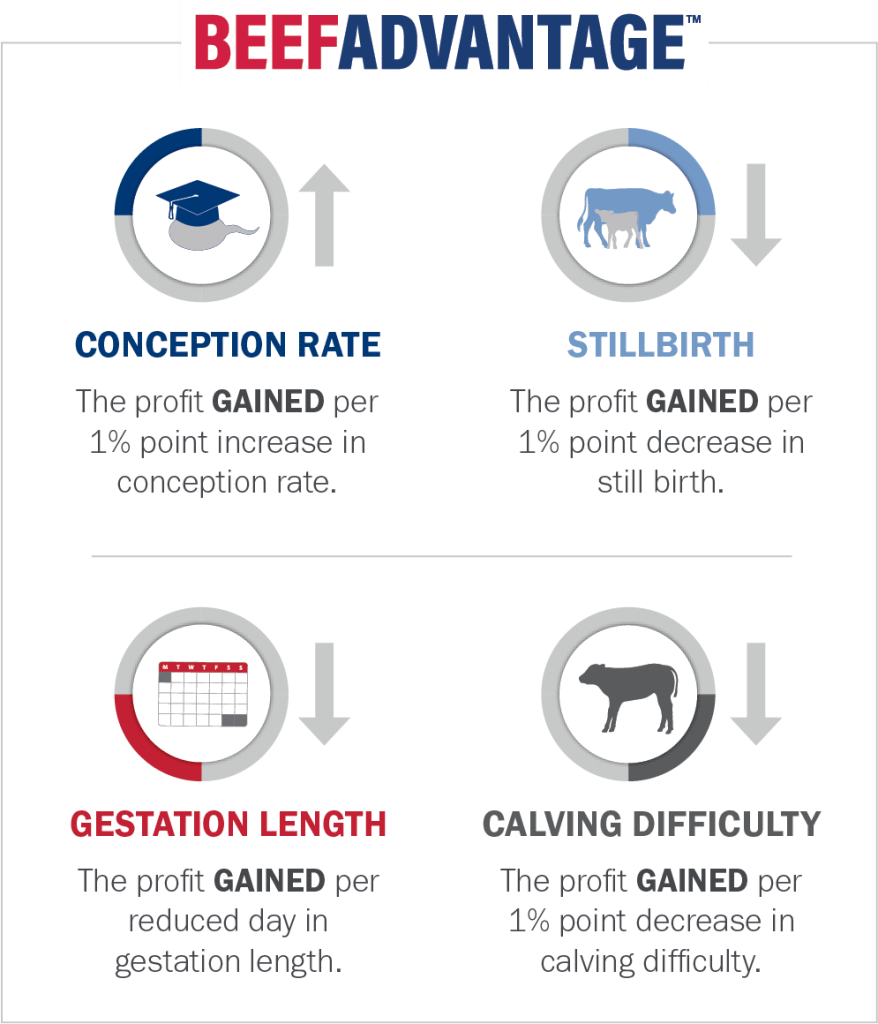 ABS Global's proprietary BeefAdvantage Index encompasses the key factors for a successful operation.
Conception rate
Stillbirth
Gestation length
Calving difficulty
Every one of these impacts the reproductive success of a dairy. Getting a cow pregnant and transitioned back into peak milk production year after year in any operation is vital to its profitability and sustainability. Our BeefAdvantage Index takes the guess work out of selecting the right beef sires to use in your dairy. The index spells out the potential profit gained or lost on the dairy per increase or decrease change in each of those key areas, respectively.
[Learn More by Watching our Beef InFocus Video]
Why Use BeefAdvantage Index Sires?
Bulls ranked on the BeefAdvantage Index offer more consistent and reliable performance in fertility and calving traits than any other bulls in the industry. These sires offer increased fertility, lower calving difficulty, reduced still births, and predicted gestation length. All while meeting the needs of the beef supply chain and adding value to your calf crop.
Should you consider the BeefAdvantage Index over traditionally used beef breed EPDs?
The simple answer is YES! Traditional beef EPDs are used for making breeding decisions within a specific beef breed. For example, an Angus Calving Ease EPD is used for making predictions for an Angus sire x Angus cow mating. This means using traditional beef EPDs to predict the outcome of an Angus sire mated to a dairy cow is limited, and likely does not meet the dairy producer's expectations.
Our BeefAdvantage Index was designed to drive dairy profitability. It's your trusted source for selecting the right beef sires to use in your dairy. Interested in putting our index to work on your operation? Contact us today!  
Want News from ABS? Sign Up Here!