Low-stress calvings are incredibly valuable. Cows are set up for a successful transition into their next lactation and calves can get off to a strong start. That makes calving ease important in not only dairy on dairy matings, but also beef on dairy.
What dairy producers may not know is that beef on beef calving ease expected progeny differences, or EPDs, do not accurately predict calving ease when beef sires are used on dairy cows. Based on ABS Real World Data®, 20% of sires with EPDs that would predict easy calvings based on beef on beef data don't meet ABS calving ease thresholds for Beef InFocus™, which can result in misidentifying a calving ease bull 1 in 5 times.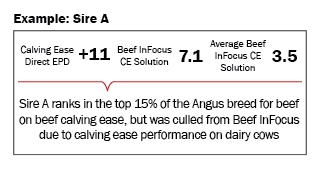 An actual example, Sire A ranks in the top 15% of the Angus breed for calving ease direct, in beef on beef performance one would expect easy calving. However, this very sire was culled from Beef InFocus due to his calving ease performance on dairy cows as our Real World data found that this bull's performance in beef on dairy resulted in difficult calvings more than twice as often as the average Beef InFocus sires.
[SHOP: Bull Semen]
Don't rely on beef breed EPDs for your beef on dairy program, confidently select calving ease sires with proven beef on dairy performance with ABS Beef InFocus. Connect with an ABS Representative to get started.