Intentional and strategic buying in the beef on dairy cattle market heavily relies on one question – How are these cattle going to grow? Instead of leaving it up to chance, buyers can rely on the most credible, proven, and efficient in the game: the verified and tag identified ABS Beef InFocus calf.
United States market predictions forecast possible drought complications to affect the beef market in 2022. Based on an availability of feed resources, this makes it clear that feeding inefficient cattle simply isn't an option in the current market. As consumer demands push toward sustainable, efficient beef – with a story like Beef InFocus – we can address this shift in needs.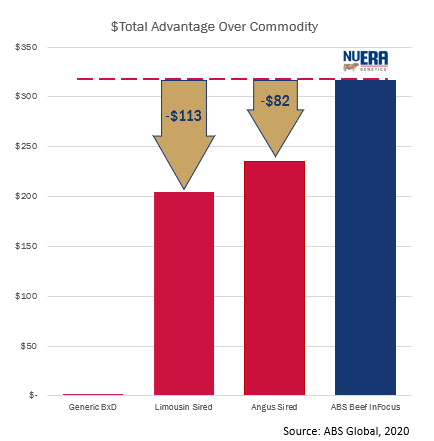 To demonstrate more profitable and sustainable beef from the dairy herd, ABS partners with stockyards, calf growers, feedlots, and packers to conduct head to head trials. A trial of over 470 head of steers concluded in 2020 (figure 1), Beef InFocus lead the way in feed conversion, carcass value, cost of gain saving and total profitability. Producing more feed efficient cattle that eat less, gain more, take less days to harvest, and creating larger and faster returns in the short and long-term markets.
[LEARN MORE: Beef InFocus]
Through every segment of the supply chain, Beef InFocus creates the most profitable crossbred calves by using high performance and efficiency NuEra Genetics™ sires from ABS that are DNA confirmed homozygous black and homozygous polled. At ABS, we begin with the end in mind, so each sire selected for entry to our Beef InFocus program must perform high in growth, feed intake, and carcass traits.
[SHOP: Buy Semen]
See how Beef InFocus rises above other beef on dairy options in the feedlot. Submit the form below to see more of the data.