May 23, 2023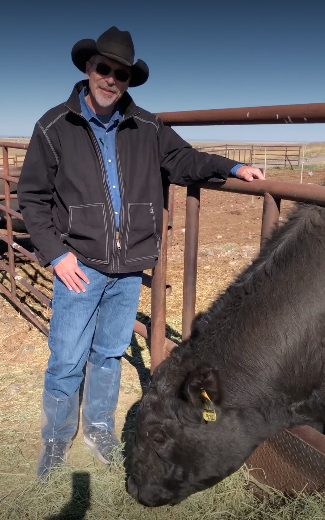 In recent years, genomics has revolutionized the way in which we select for traits in the beef cattle industry. The advancement in genomics has improved accuracy in our genetic selection methods. Genomics has contributed to breeding more productive cattle whether you are looking to build your perfect herd, push the limits of end-product profitability, or shape a cow herd around quality and balanced females.
Today, we sat down with ABS Sire Acquisition Manager, Ben Lohmann, to discuss the past, present, and future of genomics. We take a look at why producers should use genomics as a tool in their genetic selection if they are not currently doing so. Keep reading to learn more from our Q&A session!
Q: How would you describe the history of genetics?
A: Many years ago, we began to hear the best and brightest of animal breeding scientists talk about an innovative technology where DNA could be evaluated to tell the story of the animal. I think the first time I heard about DNA and cattle selection in conjunction with an EPD was at a Beef Improvement Federation Conference in Fort Collins around 2007. At that time, I did not realize the race was about to start. 
Below is a snapshot of how fast that race went.
2008-2009 – American Angus Association (AAA) began collecting DNA samples
2010 – AAA began to use genotypes in a genetic evaluation
2012 – AAA reached sample 100,000
2016 – AAA reached sample 500,000
2017 – a monumental next step in genomic evaluations as AAA went to a single step process and would be able to calculate genomic enhanced EPDs on a weekly basis
2021 – AAA reached sample 1 million
As I recall, there were two to three re-calibrations in those early years as the genetic evaluation gathered more DNA, more phenotypes, and underwent a training process. This process could be genuinely heartbreaking as sires re-ranked due to updated information.
The American Angus Association was not the only player in the race. The most influential breeds like Simmental, Red Angus, and Hereford would have been progressive early adopters of the technology. I believe the IGS Multi-Breed Evaluation including Simmental and Red Angus would have launched BOLT around the same time frame as the AAA launched single step. With these developments, our beef industry made a giant step forward.
Q: How have you seen genomics evolve over the years?
A: The earliest attempts at developing genomics, I think, were in the late 1990's or early 2000's with the GeneStar markers for marbling and tenderness. But the big jump was when we gathered enough information to impact traits like calving ease, growth, and end product in a genetic evaluation.  
We began making real progress, but we were still hampered by recalibrations every 6-24 months. Developing the technology to allow us to run an evaluation once a week or once a month was the true game changer. Now, we can start looking at additional traits to continue improving cattle.
Two thoughts come to mind right away for the evolution of genomics. The first is CONFIDENCE in the accuracy of EPDs, and the second is we now have better tools to achieve genetic progress on the lower heritability traits.
Q: How do you see genomics impacting or affecting the way you look and use EPDs when selecting genetics to bring into ABS?
A: The only thing that genomics truly changes as you look at EPDs is the accuracy level of young cattle. The risk has been mitigated a fair amount, and I have more confidence in the young sires I am evaluating. My confidence grows even more when a young sire is out of higher accuracy parents that are well connected to the database.
I rarely, if ever, look at genomic scores because that information rolls up into an EPD and gives me far better perspective. I also rarely, if ever, study a sire candidate that does not have genomic enhanced EPDs. The added information affords me the confidence in selecting the right sires for ABS customers that will perform as they are predicted to.  
Q: For producers not considering genomics, why should they be?
A: Simply put, it reduces mistakes. It shouldn't be thought of as a marketing tool. It does not discover something truly unknown or amazing. The use of genomics shows us what genetics an animal received from his sire and what genetics he received from his dam. We move past parental averages and have a more accurate prediction and understanding of how a young animal will perform.  
It is a huge win to have this gain in accuracy and confidence. While it is not a guarantee, and the accuracy level shows that, genomics remove a huge amount of inadvertent misrepresentation or mistakes we would have made during genetic selection in the past.
Q: What do you see as the future of genomics?
A: I think it is very necessary today for all seedstock animals to be genomically enhanced and connected to the breed database. We've done an incredibly good job on traditional production traits, and now, we get to focus on making a cow better. We can now identify traits that show if a cow is well behaved, has good feet, has a good udder, and if she is fertile. These will all be nice next steps when looking at longevity.
As an industry, we tend to always think about output, but I think what will be really interesting is when we identify health and survivability traits. Think about reducing the number of calves that get sick pre or post weaning, the susceptibility to different viruses, or reliance on vaccines and antibiotics.
There could be a time soon where commercial producers could benefit greatly by collecting DNA on replacement females. Maybe to identify the best ones, or better yet to cull the bottom end. However, in doing this, we could identify the best heifers well-suited for other technologies like female sexed semen to create the very best next generation of replacements. 
Final Thoughts from Ben
A genetic evaluation that calculates and delivers robust EPDs is our greatest tool when selecting and sorting cattle. In the early days, we had a little more than parent averages for young cattle, but in time, we were able to add individual weights and measures which lead to gaining a slight edge to accuracy. Today, a young genomically enhanced bull has as much accuracy as most any semi-proven sire with a single calf crop in years past, this is great insight to his future.
Seedstock providers have a responsibility to their commercial customers in delivering the most dependable product possible.  If genomic enhanced EPDs reduce risk, then selling animals not enhanced passes on a degree of unnecessary risk for the customer.
In the discussion of genetic selection for beef cattle, there are many benefits associated with integrating genomic information for improved breeding strategies. These benefits really come down to increased accuracy in the data provided, added confidence in how an animal will perform, and the realization of the powerful tool at your fingertips for genetic selection.
Benefits of Genomics 

▪️ increased accuracy in the data provided 

▪️ added confidence in how an animal will perform 

▪️ the realization of the powerful tool at your fingertips for improved genetic selection
For access to more information like this, sign up for our newsletter, The Herd, today!