Bovine Pulmonary Hypertension (BPH) has become a greater focus in the beef industry in recent years, but it has been causing beef producers heartaches for years. Historically known as high mountain disease, BPH was first discovered a hundred years ago. It was known as high mountain disease because of its occurrence in cattle at about 7,000 feet altitude. This disease has traditionally only impacted those in the Rocky Mountain region, while many outside the region are unaware of its impacts.
In today's world, producers who raise cattle at high altitudes are still experiencing losses associated with low oxygen environments, but some are seeing increased cases of brisket disease or right heart failure in cattle in feedyards. These two scenarios are caused by bovine pulmonary hypertension, a condition that is no longer isolated to the high country.
How do we lessen the heartaches of BPH?
In 2019, the American Angus Association released a PAP EPD to help with the selection for high altitude genetics. The EPD is expressed in millimeters of Mercury (mmHg), with a lower EPD being more favorable indicating a sire should produce progeny with a lower PAP score. Researchers and veterinarians at Colorado State University developed PAP tests to select for genetics to avoid pulmonary hypertension.
PAP score is an indicator of susceptibility to high altitude disease commonly experienced at elevations greater than 5,500 feet. Cattle living in hypoxic environments are at risk because of the challenges altitude places on heart and lung function. Selection for this trait aims to improve the genetic potential for a sire's progeny to have lower PAP scores, thus a lower chance of contracting high altitude disease. Ultimately, it is intended to increase the environmental adaptability of cattle living in mountain areas.
ABS Global and CSU Partnership
Since 2003, ABS has partnered with Colorado State University to progeny test more than 90 sires at 7,200 feet. True to ABS Global's history with data collection, the information is sent directly to the American Angus Association to support the PAP EPD. Getting real world PAP data incorporated into the EPD is the best way to add accuracy; our hope is that it allows producers to better utilize and put more trust in the EPD when it comes time to make decisions. Over the years, this data has also helped us identify bulls that work well at altitude and can provide an outcross to the lines that have traditionally been used.
Consider These Leading Genetics for High Altitude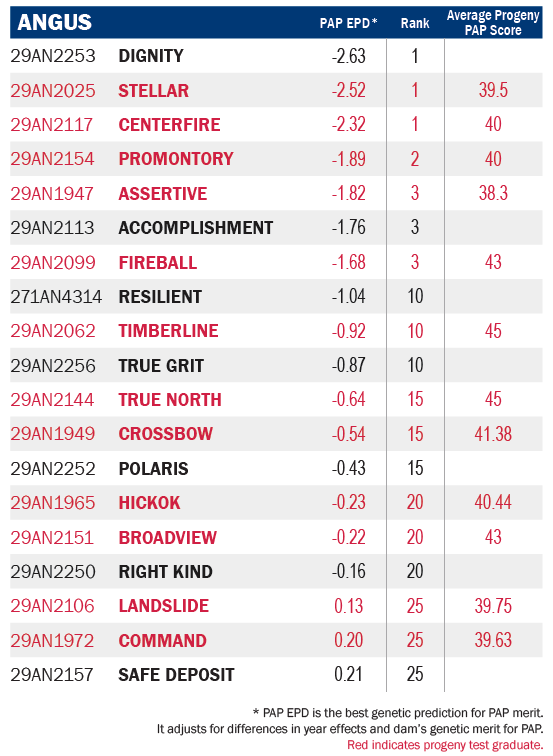 For years, Bovine Pulmonary Hypertension has been causing heartaches from the high country to the feedyard. Stacking generations of our low PAP EPD sires will help you build a cow herd that is less susceptible to bovine pulmonary hypertension. Trust the ABS shield to help you identify leading sires with genetics that are less vulnerable to BPH. Contact your local ABS Representative today to discuss genetics that will work for you at high altitudes and in high production. 
Want News from ABS? Sign Up Here!