Publish date: 6.15.23
The show cattle industry is a thriving and dynamic sector within the beef cattle world. It is not an unfamiliar niche of the market for most. But for those that are not involved, this is where breeders and cattle enthusiasts can come together to compete based on their animals' phenotype and genotype.
Show cattle exhibitions serve as platforms for showcasing meticulously bred and carefully groomed cattle as well as highlighting superior genetics, conformation, and overall quality. This industry plays a role in advancing genetic progress, promoting breed improvement, and shaping the future of the cattle industry. Specifically, the show cattle industry has a renowned reputation for building the next generation of agricultural leaders and advocates. It is an industry that teaches young people the value of hard work, dedication, animal welfare and management, and responsibility.
While the show cattle industry encompasses a wide range of cattle breeds, each has its own unique characteristics and traits. Breeders dedicate years of careful selection and breeding to create animals that exemplify the breed standards and possess exceptional qualities. These cattle are often raised under specific management practices that prioritize optimal nutrition, animal health, and handling techniques to ensure they are in prime condition for the show ring. Most people in this industry view their competitive show animals as athletes training for a sport.
Participation in the show cattle industry offers numerous benefits to breeders. The opportunity to exhibit their animals at prestigious shows provides a platform for them to gain recognition, establish their reputation, and showcase their breeding programs. Winning awards and accolades can significantly enhance the market value of their cattle, attracting potential buyers who seek superior genetics and exceptional quality from their breeding programs.
One thing a lot of people forget about with ABS Global is that we offer a line of show ring sires specifically selected for this producer base. Whether you are looking for Angus sires to make show females or Club Calf sires to make steers, we have the genetics that will take you to the winners circle.
In this article, we will focus on a segment of our Angus lineup that will get you to the backdrop. Below are the four Angus sires that you can trust for success on the tanbark or green shavings.
KING PIN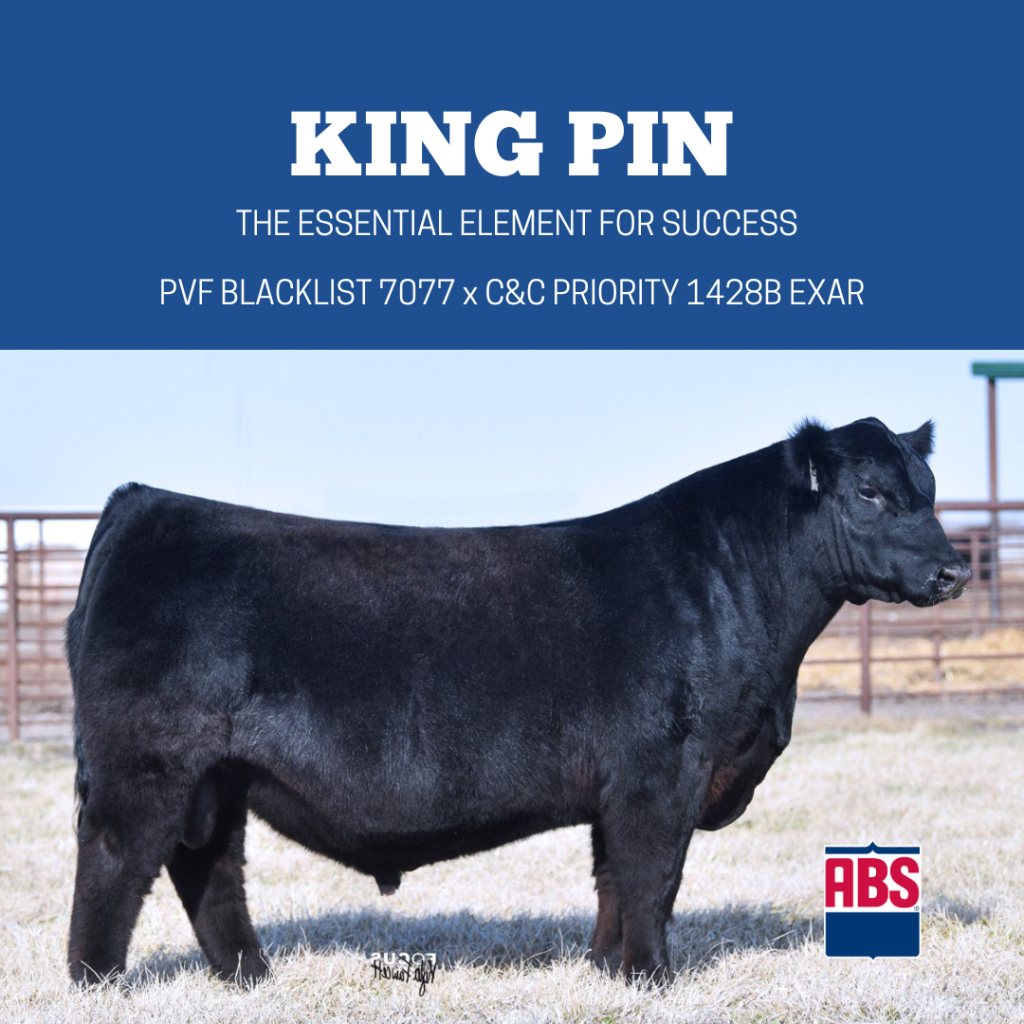 KING PIN is the first of four show ring sires for us to highlight. Quite frankly, he does not need much of an introduction as his name made a big splash when three daughters topped the popular Prairie View Farm's sale and averaged over $50,000 this spring. KING PIN combines the key components for success, beginning with an eye appealing look and supported by a program with a proven maternal track record. When you view him on the hoof, you will find a massively constructed, up headed, and proud individual who is outstanding on his feet and legs. Not to mention, his dam from the Lucy tribe transmits extra power and stoutness. She is also a past National Junior Angus Show Division Champion. There is power in the blood here, ladies and gentlemen, and KING PIN is the essential element for success.
WHITEWATER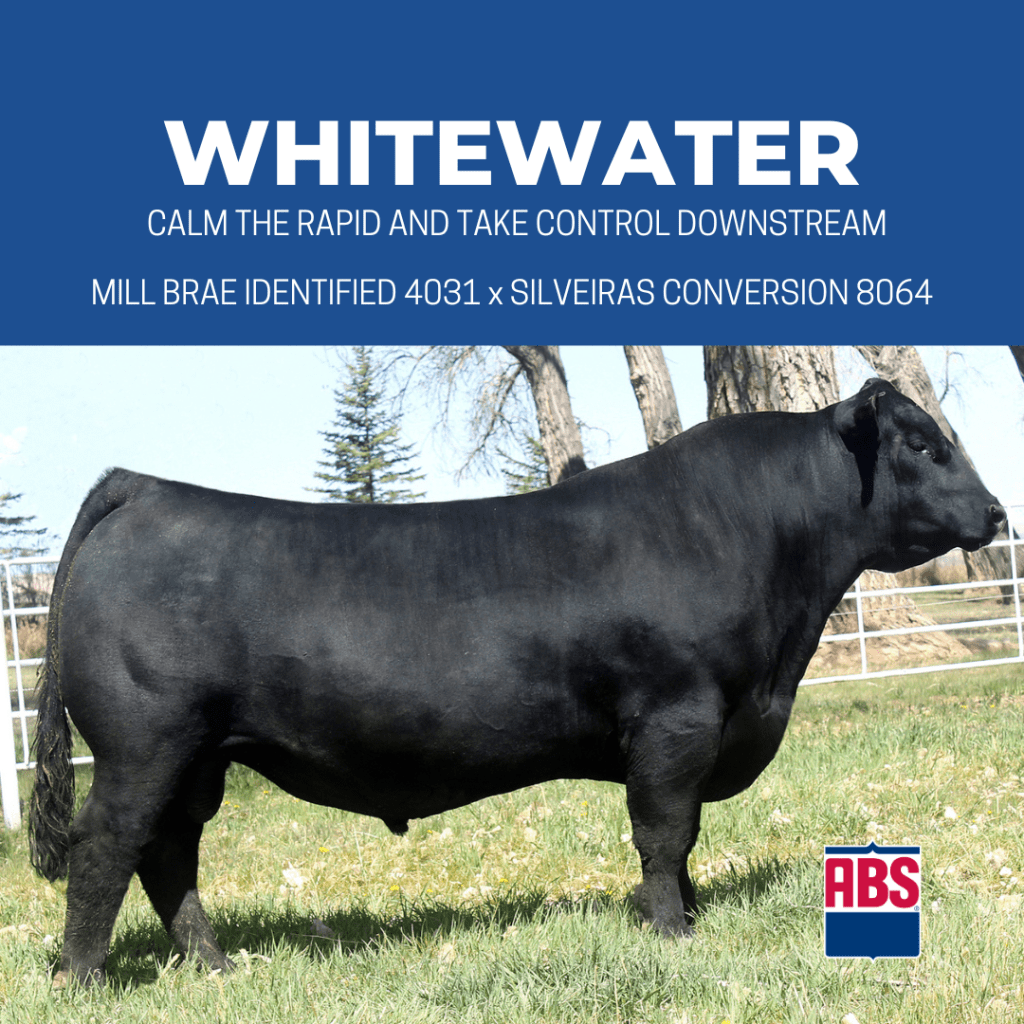 WHITEWATER is an Angus sire with a show ring phenotype to die for and does not lack when you look at him on paper. His elite EPDs elevate him to a class of his own. He is a contender for one of the most attractive and stoutest Angus sires in the business. He posts a progeny proven double digit Calving Ease EPD with top 5% of the breed for Marbling, Ribeye Area, $G, $B, and $Combined. Progeny appear to have received his exceptional length of body, attractiveness, and added stoutness. He is stamping progeny with added base width, top, and a special look. Calm the rapids and take control downstream with WHITEWATER.  
EXPRESS WAY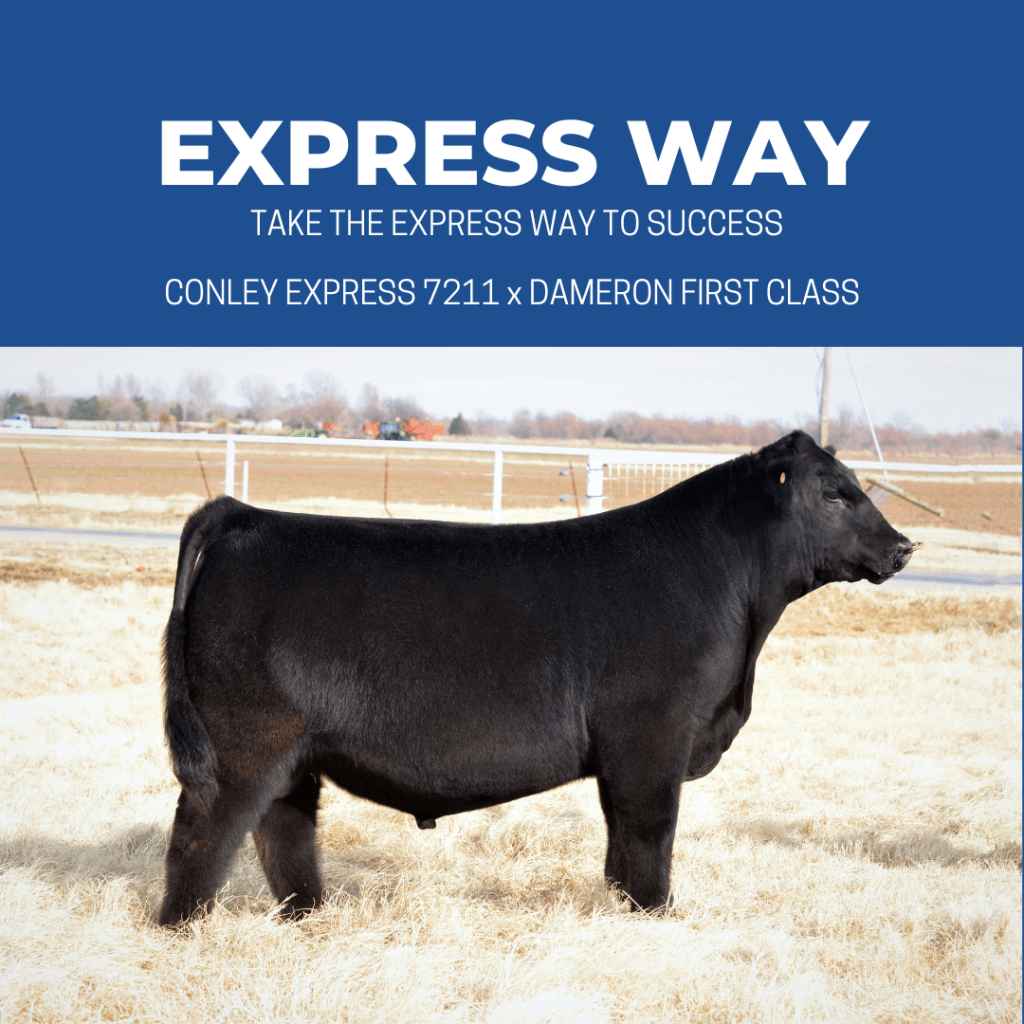 Back by a household name in the show ring industry, EXPRESS WAY is our next Angus sire to highlight. He has been coined one of the most exciting herd sire prospects to have been produced at Express Ranches. He is backed by famed genetics known for success as his dam, EXAR Frontier Gal 3734, was a National Junior Show Grand Champion female and has generated $1.5 million in progeny sales. EXPRESS WAY is siring progeny who are building demand for themselves as a daughter, EXAR Princess 2717, recently sold for $190,000 in Express Ranches' Big Event Sale. As breeders evaluate EXPRESS WAY, they find him to be sound structured with a long, powerful neck and front end. He has a tremendous design that is enhanced by his depth of rib and stoutness of bone and hip. Use him in your program and take the EXPRESS WAY to success!
FOLLOW ME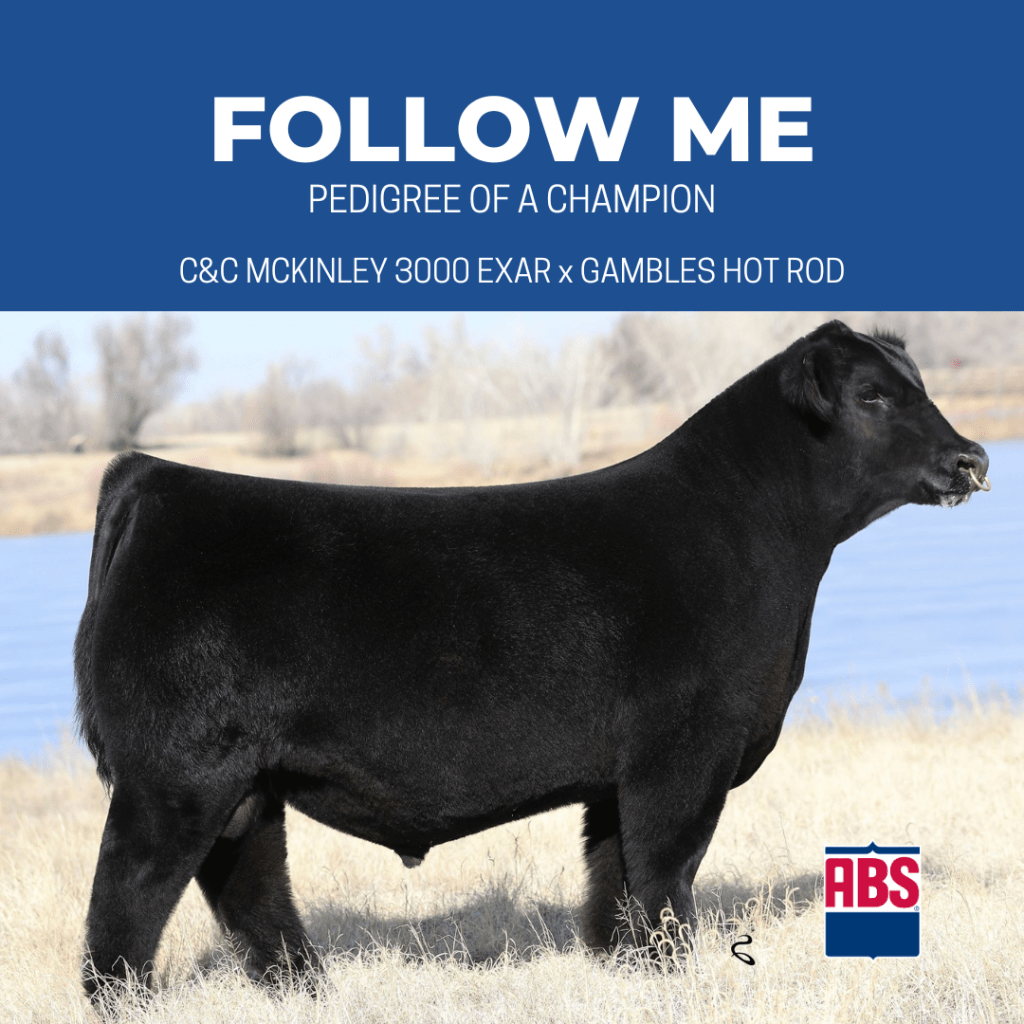 Our final highlight of Angus show ring sires is FOLLOW ME. This bull is sired by C&C Mckinley 3000 EXAR and is out of a Gambles Hot Rod daughter. If you know this pedigree, you know it is a royal pedigree with traces to First Class, Hot Rod, and Lutton. All lines of genetics that have seen their fair share of winning in the show ring industry. FOLLOW ME offers the body, softness, and added style needed to compete in the ring today. He will produce females the have the First Class body and mass with little extra look and presence. Progeny are already being selected for purple banners across country. Most recently, he sired the Reserve Champion Percentage Female at the 2023 Simmental Eastern Regional Show. Get the pedigree of a champion and FOLLOW ME to the backdrop.
With a glimpse of some of our lineup, handpicked as show ring sires, you may want to check out all of our Angus sires on Bull Search or select the Championship Type and Kind hotlist to view these guys. This digital tool makes it easy for you to sort, filter, and select traits that matter to your herd and find the sires that make your needs. Use Bull Search to start your genetic planning now, get a head start on next year's genetic choices, and find yourself at the backdrop of the next show you go to.
Interested in learning more about our Championship Type and Kind show-ring sires? Contact your ABS Representative or complete the form below.