Did you know about the record-breaking Australian Angus sires we brought into the U.S.? That's right. Three of the most highly valued Australian Angus sires are now available for your use from Millah Murrah Angus.
To sweeten this news even more, we are offering volume discount pricing on these high value sires through the entire month of February. See below for the discounts. Take advantage of this limited time offer while supplies last by contacting local ABS Representative or finding these sires on the ABS store.  
Volume Deals from Down Under 
PARATROOPER: The Record Breakers and Trend Setter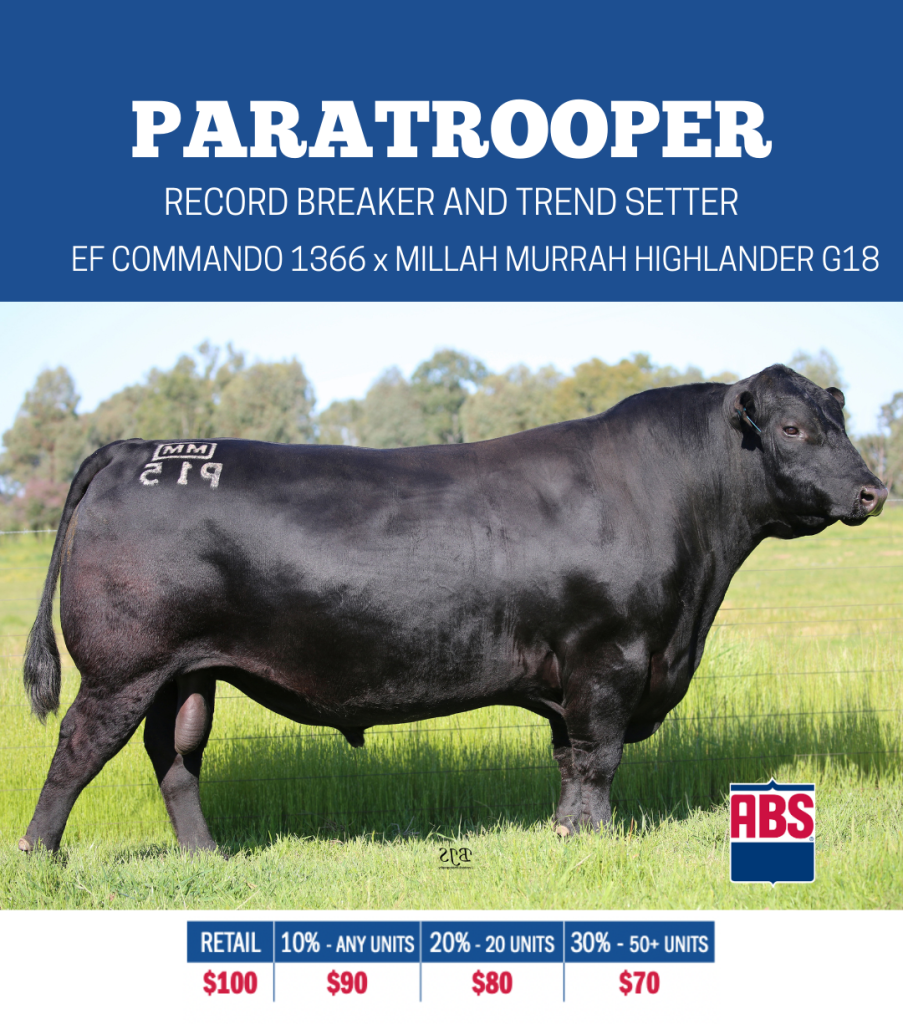 PARATROOPER set the record as the all-time top selling Angus bull in Australia in 2019. He is a bull known for superior client satisfaction as progeny reports are outstanding, and he earned the top spot for semen revenue for ABS Australia. Sons of PARATROOPER averaged $49,682 at the Millah Murrah bull sale in the fall of 2021. As a complete outcross to almost anything in the U.S. today, set new trends with PARATROOPER!
REMBRANDT: A Work of Art from All Angles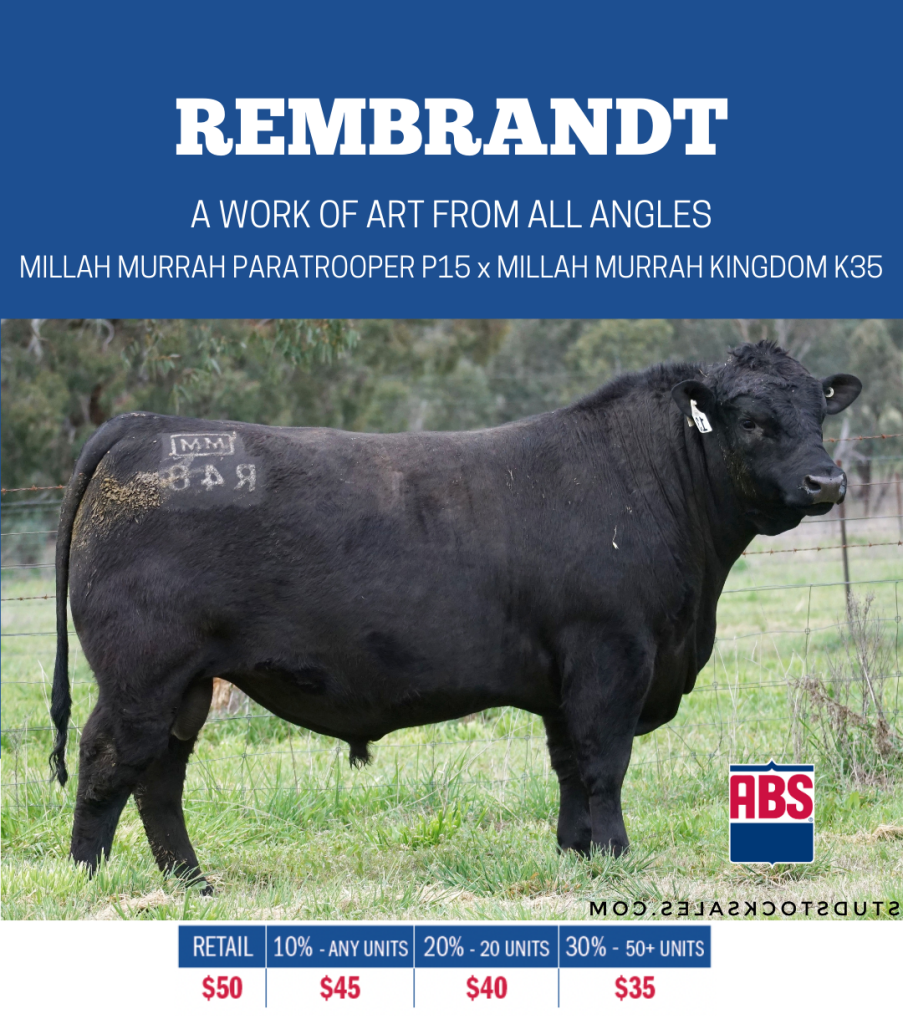 REMBRANDT is a balanced, no holes Angus sire that gives you all the goods of his sire, PARATROOPER. He is a soft made bull with tremendous dimension and length filled with natural red meat from front to rear. His pedigree is a proven maternal goldmine from Australia and New Zealand's most prized genetics. Trust REMBRANDT for his outstanding foot quality and structural soundness. Create your best work of art with REMBRANDT!
ROCKET MAN: A Record to the Top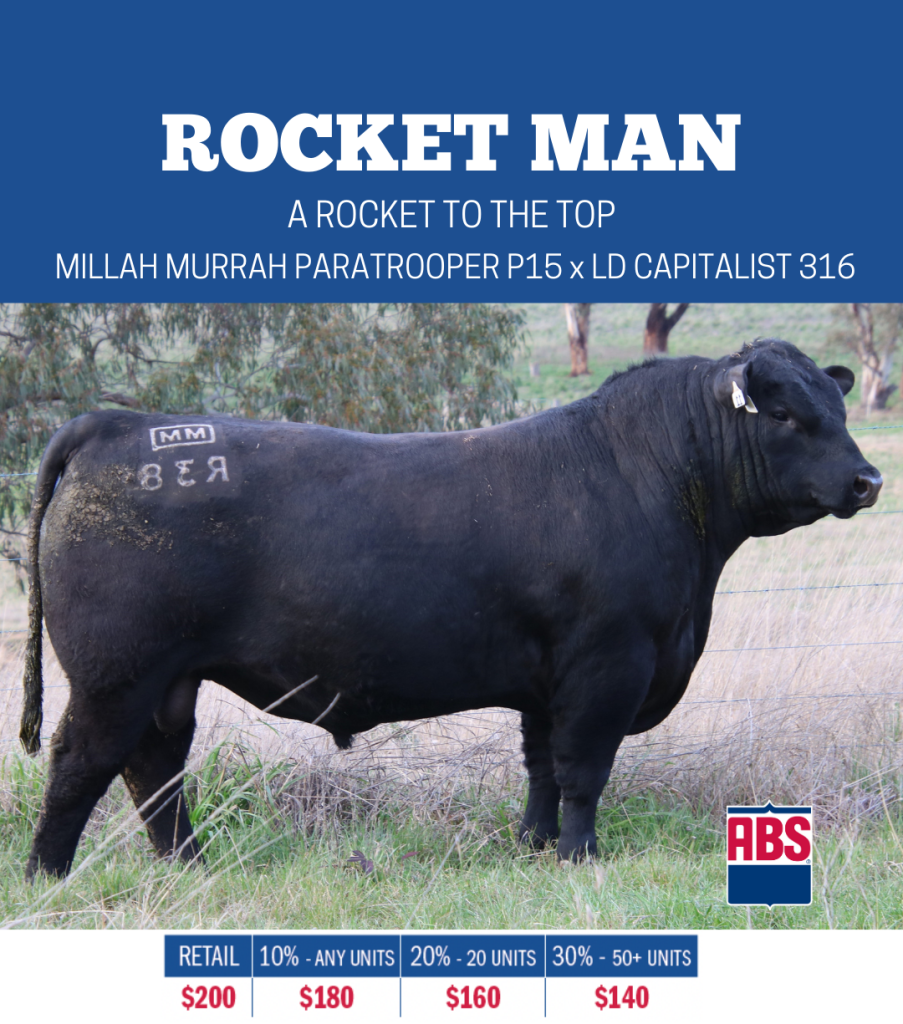 ROCKET MAN surpassed his illustrious sire, PARATROOP, to claim the new Australian Angus sire record holder. His pedigree is proven for maternal greatest as it is lined with famous Australian cow maker lines. However, he combines elite growth genetics and is wide and correct form his muzzle all the way through to his hips and pins. Say blast off and rocket to the top with ROCKET MAN!
Hear more about these sires by watching this video with Millah Murrah Angus owner, Ross Thompson, ABS U.S. Sales Director, Todd Sears, and ABS Australia Beef Manager Fletch Kelly.
Millah Murrah Angus is a seedstock beef cattle business owned and operated by Ross & Dimity Thompson and their family near Bathurst, New South Wales, Australia. Their mission is to produce leading genetics for the commercial beef industry in harmony with sympathetic land use practices. At Millah Murrah, they see the big picture as they strive to balance performance for the beef supply chain and maternal characteristics for cowherd sustainability. The team at Millah Murrah knows growth and carcass are important for downstream in the beef supply chain, but their primary focus is maternal function. This mentality about genetics fits perfectly with the ABS Pasture to Plate philosophy.