April 28, 2023
Last week, ABS Global had the privilege to participate in the National Institute for Animal Agriculture's (NIAA) Annual Conference. NIAA is a non-profit organization that is dedicated to providing programs to work towards providing solutions for disease, while promoting a safe and wholesome food supply and the best practices of environmental stewardship, animal health and well-being.
NIAA is the trusted voice for advancing animal agriculture in producing safe and healthy food for the world.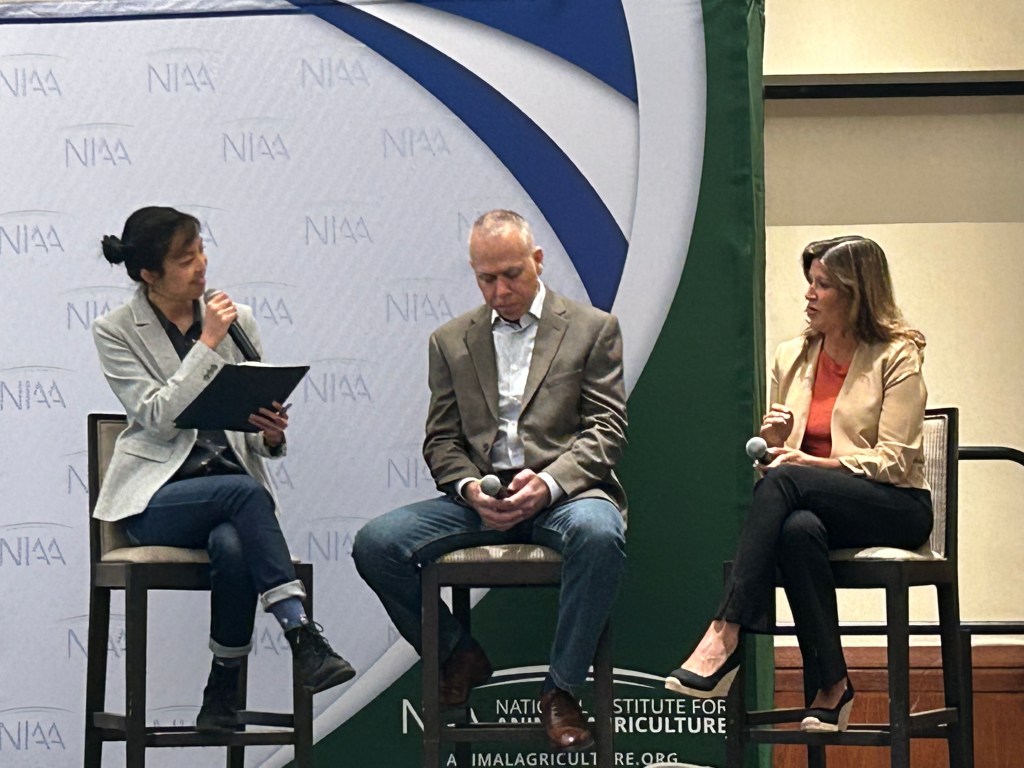 A few ABS team members were able to participate in the conference via discussions and events centered around the impact genetics has on a sustainable, safe, and healthy food supply—as well as the impact on productivity and profitability animals for producers.
We sat down with team members Ellen Lai, Beef Sustainability Scientist, Jared Wareham, NuEra Business Development Manager, and Grant Sardella, Beef Testing Coordinator, for a Q&A session to get the inside scoop on their experience at NIAA's conference.  
Q: What was ABS' involvement in this year's annual conference?
J: ABS was a sponsor of the Cocktails & Conversations event along with Creekstone Farms and Diamond V. A chef prepared several dishes using unique beef cuts to promote and educate about the sustainable use of the entire beef carcass. This has become a very popular event to attend.
I was asked to serve on the NIAA Board of Directors last year. In addition to a role on the planning committee, I am also co-chair of the Equine Industry Working Group that organized that portion of this year's annual conference. Day two of the conference kicked off with horseman and longtime manager of the 6666s ranch, Joe Leathers. That was followed by a panel of subject matter experts that spoke about the role of the working cow horse in sustainable beef production, and how they are an invaluable tool to our industry.
Ellen moderated the opening panel, which was a roundtable discussion about the climate-smart agriculture (CSA) grants. This was particularly relevant because the theme for this year's conference was climate-smart agriculture, so her panel was tasked with giving the background of what climate-smart ag was and what panelists were doing at their organizations to provide the insights and framework for implementing CSA practices.
Q: Why does ABS find value in being a part of NIAA?
E: NIAA is a multi-species, multi-sector organization, which means at this conference, I gained more context on where we are, both as part of the beef industry and as geneticists, in comparison to other species and sectors. For example, I learned that the beef industry lags a bit behind the pork industry in benchmarking and tracking our progress in sustainable practices. As a geneticist, I value being a part of NIAA to advocate for genetics as the foundation of sustainable solutions to meet the challenges of feeding a growing, hungry population.
J: NIAA represents thought incubators across multiple proteins. The membership takes on tough topics, like sustainability, and helps provide a platform to discuss and exchange research so that the agriculture sector has clarity and a voice. ABS's presence provides our team opportunities to advocate for our customers, as well as share insights gained through our industry-leading efforts in testing and research. 
G: NIAA is a great opportunity for industry experts to convene, discuss, and provide solutions on topics that will be challenging to the future of animal agriculture.  The value of ABS Global is to stay connected to industry experts in regulatory, industry, and non-profit organizations throughout the US. ABS Global is currently the only genetics company that is part of NIAA today. I choose to support the NIAA because I truly believe the intentions are pure, for animal agriculture experts to discuss topics and present solutions to people in the industry that can make a real difference. 
Q: What was your biggest takeaway from the conference?
J: Integration of things like traceability and climate smart genetics will depend heavily on our industry's ability to find "practical" pathways for entry into production systems. If these two things are somehow linked to technologies that solve more relevant issues producers face, their integration will most likely be more frictionless.
E: Regardless of what you call it, CSA encompasses practices that reduce or sequester GHG emissions. Setting sustainability goals is not enough anymore. Now is the time to develop and implement solutions. The solutions must be data-driven, include all stakeholders, tailored to each producer and each system, scalable, and above all, be easy and accessible for the farmers. 
G: My largest takeaway from the conference was the long discussion about what others in the industry are doing to promote sustainability in animal agriculture. Additionally, it was a fantastic opportunity to network with professionals from animal pharma, breed associations, non-profit organizations, agriculture media, and producers from across the species of animal protein. It was a great privilege to attend.
Sustainability, Genetics, and the Future
ABS knows that sustainability is a headline topic within the beef industry. We see the value genetics bring to the table as we continue to carry out our vision of pioneering animal genetic improvement to help nourish the world. With Ellen's role as Beef Sustainability Scientist, we are able to research and understand our role for a sustainable future. Read below her response to the future with climate-smart, sustainable genetics.
Q: On the discussion of climate-smart, sustainable genetics, what's the future? And, why is this such an important topic to present at NIAA?
E: At the conference, I started the panel by polling our audience (~130 attendees) on who had heard of the term climate-smart ag, and who felt they had a clear definition of CSA. Everyone had heard of the term CSA, but only three people felt they had a good grasp on what it was. That told me we as players in the animal ag space must first define what CSA means to us, and then figure out what implementing CSA looks like to each of us across sectors and species.
We did some level-setting to define what CSA was: The USDA has defined a climate-smart commodity as "an agricultural product produced using farming, ranching, or forestry practices that reduce greenhouse gases or sequester carbon." This definition is pretty narrow in that it focuses solely on GHGs, but I have heard of others describing any sustainable practice as climate-smart (e.g. practices that improve other environmental impacts like soil health or water quality). Climate-smart ag has had many names, but the practices are the same: increasing food, fuel, and fiber production while simultaneously improving environmental impact, human and animal health and welfare, and profitability.
Right now, the definition of CSA focuses on reducing GHG emissions, but in the future that will likely expand to other environmental impacts, such as water usage, eutrophication potential, acidification potential, energy usage, biodiversity impacts, or other metrics of ecosystem health, etc. And all those environmental impacts still need to be balanced with animal health and welfare, human health, and people's livelihoods. It is going to take a lot of creative thinking, trial and error, and above all, collaboration across all sectors and species to ensure the success of CSA. That's why we need to convene at conferences at NIAA: to keep the dialogue open across sectors and species.
I anticipate future CSA/sustainable ag practices will include genetics as the foundation for both animals and the plants grown to feed people and animals, identifying and implementing best practices to improve soil health (e.g. probiotics for soil to get the "good bugs" in the soil), quantifying the full potential of the bioavailability of nutrients in animal protein relative to plant-based protein.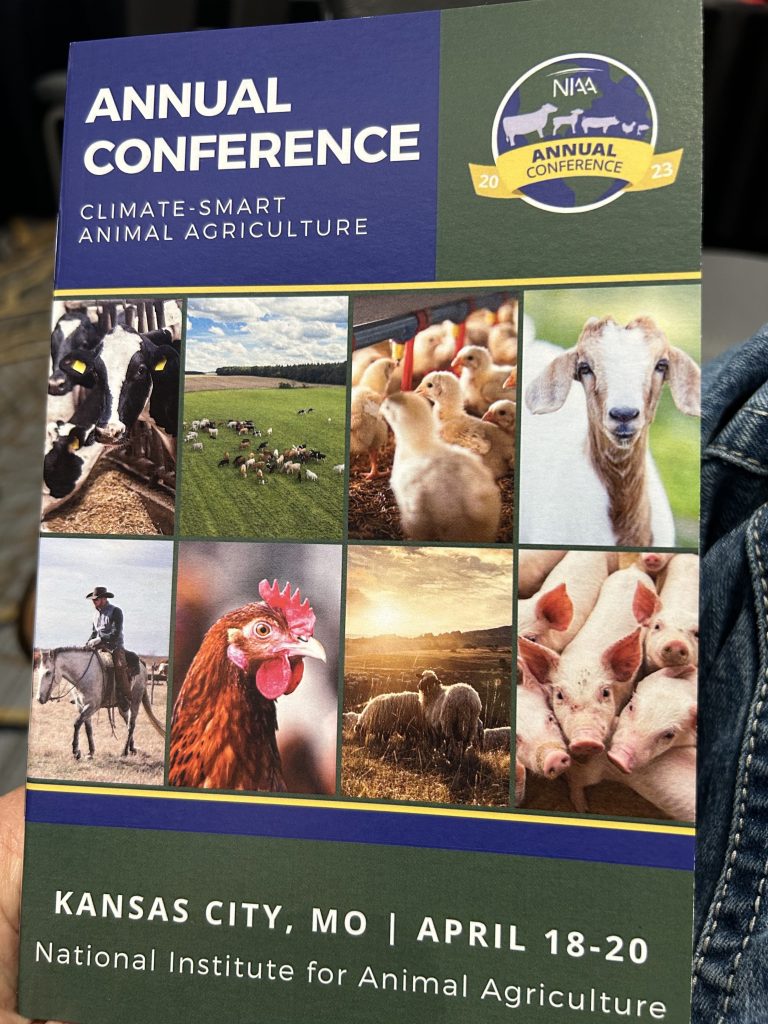 We were so glad to be a part of this year's NIAA annual conference to discuss the impact of genetics on animal agriculture. We look forward to seeing everyone again next year!